Blog
How To Fix Slow Computer Startup
startup time on a computer involves the boot time and the welcome screen time.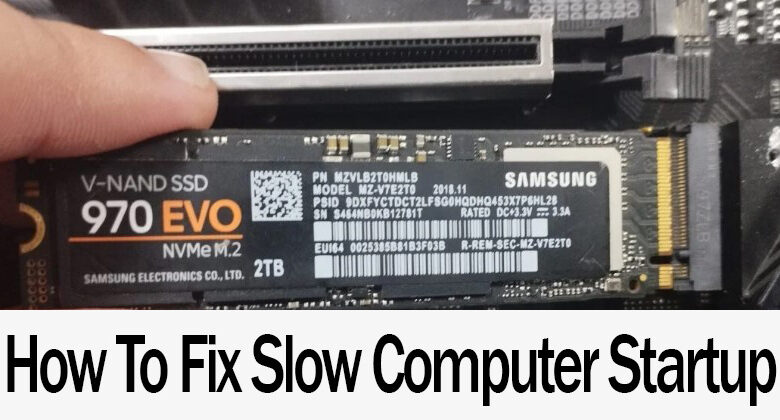 This issue can be brought on by a variety of circumstances, such as the inclusion of unnecessary startup programs, incorrect startup or BIOS settings and policies, as well as problems like malware infections or outdated systems.
In addition, you may have such problems because certain components of your hardware are outdated and/or slow.
Use Solid-State Drives SSD or NVMV
It's possible that the slowness of your gadget components is the primary reason why your computer takes so long to start up. When you turn on your computer, it loads the essential system files into the random access memory (RAM) from the storage device. So, if you use a hard disc drive (HDD), this operation will take a significant amount of time.
How To Fix Slow Computer Startup
It is usually suggested that you utilize a solid-state drive (SSD) as the primary disc (the disc that contains the operating system) on your computer for quicker performance because an SSD is far faster than a hard drive.
How To Disable Startup Apps and Service
The presence of a large number of applications and services that are activated during startup is one of the most typical causes of a lengthy starting process. The reason for the sluggish startup is that your computer cannot properly finish the startup process or let you log in until it has finished loading all of these processes. This is also the reason why the startup process takes so long.
This problem is most likely to occur if you have put a large number of programs on your system that you recently installed. These applications could also install unnecessary bloatware on your machine that kicks off when you boot it up.
To improve the speed at which the system starts up, you must search for any unneeded programs and then disable them.
Press Ctrl + Shift + Esc to open the Task Manager.
Go to the Startup tab.
Look for all applications that you don't want the system to load at startup, especially those whose Startup impact says High.
Select them and click Disable.
But, if there's a security application that you use, it's better not to disable it regardless of the Startup impact.
Then, you need to go through third-party services.
Open Run by pressing Windows key + R.
Type msconfig and press Enter to open System Configuration.
Go to the Services tab and check to Hide all Microsoft services.
Uncheck all the services that you don't need. If you don't know about the service, search on the internet for more information.
As with the above scenario, I don't recommend disabling security services.
You can also check which services or apps impact the startup time most by individually disabling them or doing so in bunches and restarting your computer.
Scan for Malware
Some malicious programs are designed to load automatically whenever the system does. Under these circumstances, your computer may install them mistakenly upon startup, which will lengthen the amount of time it takes to begin operating. These scripts will also cause more damage to your system, which is why you should run a full scan or an offline scan to remove these dangers as soon as possible.
Open Run.
Type ms-settings:windowsdefender and press Enter to open Windows Security.
Go to Virus & threat protection.
Click on Scan options.
You also have the option of utilising the Microsoft Defender Offline Scan to search for and eliminate other persistent threats, which the Complete scan won't be able to get rid of.