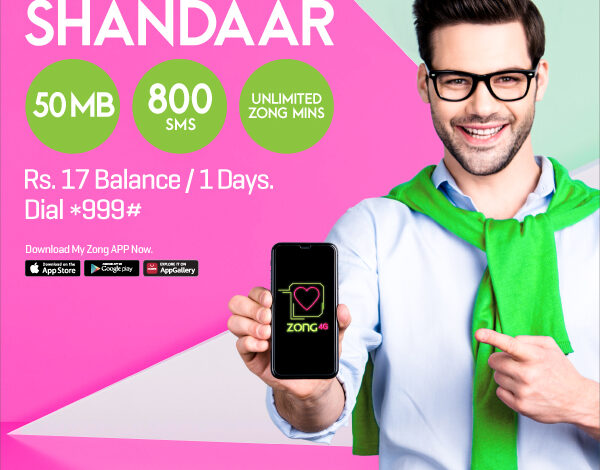 Zong Call Packages – Daily  For Prepaid
Customers of Zong can choose from a number of different daily call bundles. The Zong Daily Full Gup bundle includes 100 SMS, 30 MB of internet, and 75 free on-net minutes for a 24-hour period. The bundle costs PKR 5 in addition to tax. You may subscribe by dialing *118*1#. 20 on-net minutes for PKR 5 are included in the Daily Voice deal for a single day. It may be joined by calling *45#. The Zong Daily Shandar Offer offers 800 SMS for PKR 14 plus tax, 50 MBs of internet, and unlimited on-net minutes for a single day. In order to sign up for the promotion, dial *999#.
For PKR 13 plus tax for 24 hours, the Zong Hello 1 Din promotion offers 150 on-net minutes, 50 MBs of internet, and 150 SMS. By phoning the code listed in the table, you may register for the promotion. The Zong Flutter bundle costs PKR 12 plus tax for a day's worth of 120 on-net minutes, 120 SMS, and 50 MBs of internet. Now, if we discuss the Zong Sixer Plus Package, it provides 500 SMS, 1 MB of data for a day, and unlimited on-net minutes (6 am – 6 pm). For PKR 10 plus tax each day, the Zong Daily Non-Stop service gives limitless on-net minutes that may be utilized between the hours of 10 p.m. and 7 p.m.
| | | | | |
| --- | --- | --- | --- | --- |
| PACKAGE | PRICE | DETAILS | VALIDITY | ACTIVATION CODE |
| Zong Daily Full Gup | Rs. 5 plus tax | 75 Free On-Net Minutes 30MB WhatsApp + 100 SMS | 1 Day | Dial *118*1# |
| Daily Karachi LBC | Rs. 13 plus tax | Unlimited zong mins, 125 MBs of internet | 1 Day | Dial *544# |
| Zong Daily Kashmir Offer | Rs. 12 plus tax | Unlimited zong mins, 1 MB internet | 1 Day | SMS AJK to 522 |
| Zong Daily Oman | Rs. 100 plus tax | 5 international mins | 1 Day | Through My Zong App |
| Zong Daily Baatooni Flight Bundle | Rs. 10 plus tax | 12 international mins (for USA, Canada, & China) | 1 Day | Through My Zong App |
| Zong Daily Malaysia | Rs. 25 + tax | 10 international mins | 1 Day | Through My Zong App |
| Daily Voice Offer | Rs. 5 | 20 on-net minutes | 1 Day | *45# |
| Zong Shandar Daily Offer | Rs. 17 plus tax | Unlimited On-Net Minutes 50MB Internet + 800 SMS | 1 Day | Dial *999# |
| Zong Hello 1 Din Offer | Rs. 13 plus tax | 150 Free On-Net Minutes 50MB Internet + 150 SMS | 1 Day | Dial *2200*1# |
| Zong Flutter Package | Rs. 12 plus tax | 120 Free On-Net Minutes 120 SMS 50 MB Internet | 1 Day | Dial *369# |
| Zong Sixer Plus Package | Rs. 8 plus tax | Unlimited On-Net Minutes 500 SMS 1 MB Internet | 6 am – 6 pm 1 Day | Dial:*666# |
| Zong Daily Punjab Offer | Rs. 37 | 150 MB internet, 40 off-net mins, 500 Zong mins, 500 SMS | 1 Day | Through My zong app |
| Zong Daily Bol Lahore Offer | Rs. 26 (consumer price) | 300 On-net mins, 50 off-net mins, 150 MB internet, 500 SMS | 1 Day | Dial *2233# |
| Zong Daily Mehran Offer | Rs. 26 | Unlimited zong mins, 500 SMS, 100 MBs internet | 1 Day | Dial *2345# |
| Zong 2-Hour Non-Stop Offer | Rs. 12 (consumer price) | Unlimited On-Net Minutes, 1 GB Internet | 2 Hours | Dial:*5555# |