Mobiles
DxOMark Rates OPPO Find X6 Pro the Best Photography Phone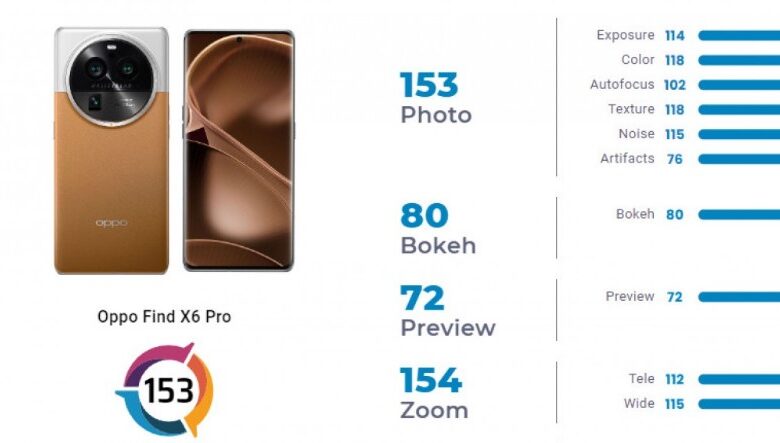 If you are seeking for a smartphone with the best camera, OPPO provides the best option available for you. The extraordinary DxOMark picture score achieved by the OPPO Find X6 Pro has caused quite a stir in the world of smartphone photography.
On the DxOMark global image ranking list, the phone earned the highest possible score of 153 points, solidifying its position as the number one ranked smartphone. Following closely after in second place is the Honor Magic5 Pro, and in third comes the Huawei Mate 50 Pro.
The professionals at DxOMark lauded the OPPO Find X6 Pro for its well-rounded and outstanding performance across the board in all categories of photography, including images, videos, zoom, and bokeh. Because of the camera's precise exposure settings, superb texture, and balanced noise levels.
DxOMark Rates OPPO Find X6 Pro the Best Photography Phone
According to DxOMark's findings, the OPPO Find X6 Pro performed extraordinarily well in low-light shooting settings, earning the best possible score among all devices. The big sensor that is housed within the camera module of the smartphone helps to maintain the integrity of the scene's features regardless of the amount of available light while also minimizing noise, resulting in high-quality images both during the day and at night.
The camera on the OPPO Find X6 Pro has a three-camera arrangement, which consists of a 1/1.56-inch ultra-sensitive periscope telephoto lens, a 1-inch huge bottom wide-angle lens, and a free-curved ultra-wide-angle lens. This setup is the most notable feature of the camera on the OPPO Find X6 Pro. Users will have an exceptional time taking photographs with any one of these three lenses because they have the highest light sensitivity in their respective categories.
In addition, the OPPO Find X6 Pro makes use of innovative photon matrix technology, which, in comparison to conventional technology, results in an increase in the dynamic range of light and dark tones that is eight times more pronounced.
In spite of all of these remarkable accomplishments, there are still certain downsides to consider. Both the static camera and the video camera on the phone appear to have exposure metering issues that are inconsistent with one another. Because the sensor on the primary camera is only 1 inch, you must snap group photos from a considerable distance in order to ensure that all of the subjects are in sharp focus. There is a problem with the shallow depth of field on all big-sensor smartphones, including the Find X6 Pro, so it is not unique in this regard.