Mobiles
Genuine 50MP Samsung Galaxy A14 4G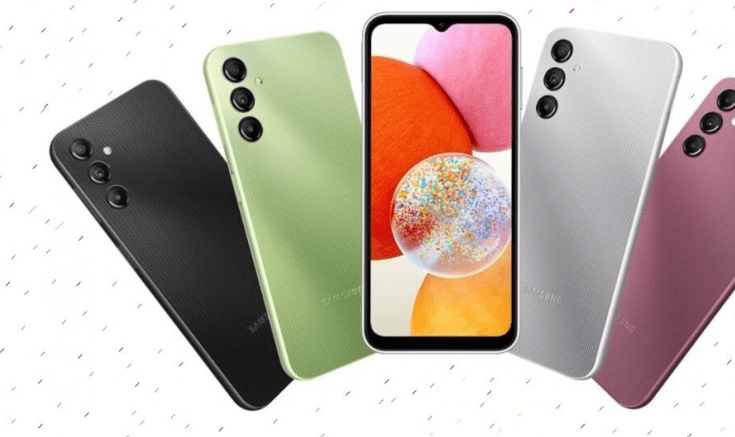 The Galaxy A14 5G was just released a short while ago by Samsung. Depending on the region, the system-on-a-chip (SoC) in the phone is either an Exynos 1330 or a Density 700. Now, Samsung has released its 4G variant, which has the same general appearance as the Galaxy A14 5G but comes with a different set of internal components.
To begin, the display on the phone is 6.6 inches and supports Full HD+ resolution. The pace at which the screen is refreshed has also been reduced from 90Hz to 60Hz. The 5G variant utilizes a different chipset than this one does. It is possible that Samsung is referring to the Helio G80 System-on-Chip (SoC), however, the company's official website does not mention the name.
Genuine 50MP Samsung Galaxy A14 4G
In addition to that, the rear of the Samsung Galaxy A14 4G houses not one, not two, but three cameras. It has a 50MP camera, which is accompanied by a 2MP macro unit; however, the 4G model replaces the 2MP depth sensor with a 5MP ultrawide camera, and the 5G version retains the 2MP depth sensor. In a similar vein, the front-facing camera on the phone also features 13 megapixels.
In addition, the Samsung Galaxy A14 4G employs Bluetooth 5.1 rather than Bluetooth 5.2 and is only available in a single memory configuration that consists of 6GB of RAM and 128GB of internal storage. By utilizing a microSD card, you are able to increase the storage capacity all the way up to 1 terabyte. In addition, the phone includes a fingerprint reader that is positioned on the side for use in biometric authentication.
Other notable features of the Samsung Galaxy A14 4G include a USB-C port, near-field communication (NFC), and a 3.5mm headphone jack. The mobile device has a battery capacity of 5,000 Mah and supports 15-watt charging. The manufacturer has not disclosed which version of Android is preinstalled on the Galaxy A14 4G when it is purchased, however, we have high hopes that it is Android 13.