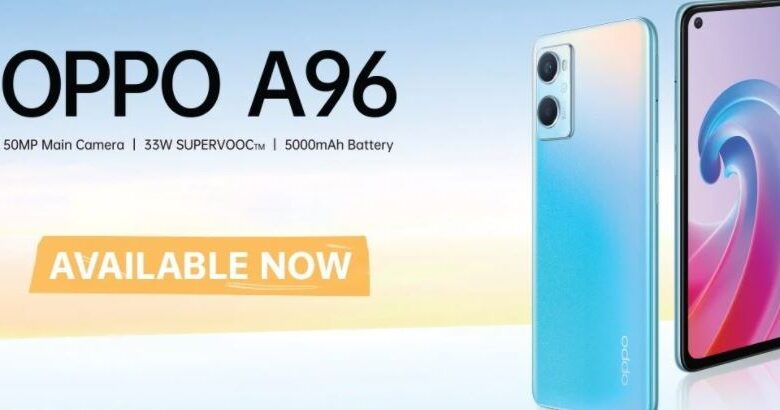 A new smartphone from OPPO, the OPPO A96, is now available in Pakistan through retail locations and digital outlets. It is equipped with a powerful 5000mAh long-lasting battery as well as 33W SUPERVOOCTM flash charging, which provides a seamless experience. These characteristics are further enhanced by the OPPO Glow Design, which makes the phone scratch and fingerprint resistant, further enhancing the overall experience. An immersive viewing experience is promised by the OPPO A96's 6.59-inch 90Hz Colour-Rich Punch-Hole Display with a 96 per cent NTSC wide colour gamut, which is managed by the company's self-developed Adaptive Refresh Rate Technology and manages the refresh rate. Available now for PKR 41,999/- across the country.
When the OPPO Glow Design production process is completed, the best diamond-cut glass panel is selected and placed in a vacuum chamber, where the crystal pattern is compressed, resulting in an attractive, smooth, anti-fingerprint, and dirt-resistant finish. This results in the OPPO A96's 3D thin centre frame form factor, which is available in two stunning colour options: Starry Black and Sunset Blue.
On the front, the OPPO A96 has a 6.59-inch Full High Definition (FHD) Color-Rich Punch-Hole Display with a 90.8 per cent screen-to-body ratio and a 1080×2412 FHD resolution. When you use an LCD screen, the bump up in refresh rate is managed by the company's Adaptive Refresh Rate Technology, which was developed in-house for LCD screens and auto-regulates the screen refresh rate based on what the user is doing. This results in improved smoothness while keeping power consumption to a minimum. All-day AI Eye Comfort improves the visibility of the screen in bright or dark surroundings, depending on the amount of ambient light present. The colour range of the display has also been increased to cover 96 per cent of the NTSC standard. The display now covers a larger portion of the colour spectrum, making image colours even more real, rich, and compelling. The display is equivalent to 100 per cent DCI-P3, and it now covers a larger portion of the colour spectrum.
By relocating the fingerprint sensor to the side of the device for faster unlocking access, the OPPO A96 is able to utilise a 3D Thin Center Frame, which results in a smaller and more premium overall appearance and feels.
For an effortless experience, a 5000mAh long-lasting battery and 33W SUPERVOOCTM are combined.
The 5000mAh (usual) battery provides customers with the battery juice they need to stay connected throughout the day. The battery allows users to text on WhatsApp for up to 15 hours, while the 33W SUPERVOOCTM rapid charging technology provides users with greater flexibility, with a 30-minute charge giving 55% of the battery's capacity. In addition, OPPO has made significant strides in improving the efficiency of battery usage with features such as Super Power Saving Mode, which is based on power-saving strategies such as CPU frequency adjustment and backlight regulation that is applied to specific apps to extend battery life, as well as features such as Super Power Saving Mode. The OPPO A96 also includes Optimized Night Charging, which allows the phone's artificial intelligence to understand the user's sleep patterns and create a segmented battery charging plan for the user during the evening and nighttime hours.
Performance that is Dependable for a Long-Lasting Experience
The OPPO A96, which is equipped with an 8GB + 128GB huge memory and storage, is powered by the Qualcomm® SnapdragonTM 680 4G Mobile Platform, which provides an extraordinarily smooth user experience. RAM Expansion, provides an additional boost to performance and storage on the OPPO A96, allowing for greater multitasking and a more seamless experience, as well as additional capacity via SD card expansion, which allows for the preservation of more photographs and movies.
When it comes to calling and entertainment, a good audio experience is essential. The dual speakers and microphones of the OPPO A96 provide high-quality stereo audio at a low level while suppressing surrounding noise. The high-fidelity Dirac HD audio technology enhances the immersive nature of the watching experience.
Portrait Experience with a Powerful Camera System that is Versatile
The OPPO A96 is equipped with a 16MP front camera, which produces stunning portrait images. AI Natural Retouching, for example, removes blemishes from the user's face while keeping preserving the user's natural facial features. With the help of the 360° Fill Light function, portrait photographs taken in low-light conditions are now brighter and more detailed.
It has a 50MP Rear Camera with high photosensitivity and pixel count, as well as a 2MP Bokeh Camera, which allows users to use Portrait Mode to capture photos with precise and natural bokeh effects. The front-facing dual camera setup has a 13MP camera with high photosensitivity and pixel count, and a 5MP camera with a high pixel count. Also included is a back camera with a digital zoom of 5x and the ability to take up to 20 continuous burst images.
As users shoot in a variety of situations, users can take advantage of other camera capabilities such as AI Palette, Neon Portrait, Flash Snapshot, and Selfie HDR to provide even greater versatility.
ColorOS 11.1 Provides an Intuitive Software Environment
The ColorOS 11.1 operating system on the OPPO A96 makes the overall user experience effortless and efficient, with fluidity, ease of use, and performance at the heart of the device's capabilities. System optimization software tools such as System Booster and Link Boost 2.0 help to ensure that the system performs at peak levels and that the communication is as seamless as possible. Bullet Screen Message reduces the amount of time that users are interrupted by calls or notifications while they are playing a game. This means that message information will scroll across the screen as floating windows to reduce the amount of time that users are interrupted. Security and privacy are also important components of ColorOS, with Private Safe and APP Lock both allowing users to keep their private data as well as their apps safe and secure. Anti-peeping for Notifications allows the front camera to recognise anyone who is close by and automatically protects user information by masking the content of the notifications they are receiving.