News
Prepare for Islamabad's first virtual zoo in Pakistan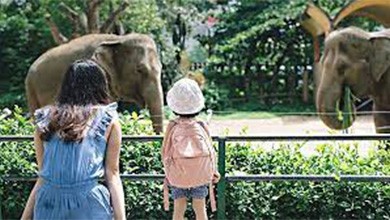 We are getting closer to technical wonders every day, and Pakistan's first virtual zoo is one such creation, located in the Federal Capital of Islamabad. The virtual reality and cutting-edge technologies used in the Marghazar Zoo will bring people closer to animals than before. When the actual animals were moved to other countries, this zoo was shut down two years ago.
Amer Ali Ahmed, chairman of the Capital Development Authority (CDA), and Rina Saeed Khan, chairperson of the Islamabad Wildlife Management Board (IWMB), visited the zoo that had been shut down for more than two years to set up the virtual zoo there in order to make Pakistan's First Virtual Zoo a reality.
A new practise of releasing animals is being practised all throughout the world, and people are currently very opposed to it. Similar circumstances led to the closure of Islamabad Zoo, where Kaavan, the world's loneliest elephant, had been transferred alongside other animals with considerable expectation.
After successful launch of guided tours of our Leopard Preserve Zone in MHNP, IWMB now hopes to open up sections of old zoo to public for virtual tours! It's all about using technology to educate & inspire public! Working on concept with CDA @CDAthecapital @WildlifeBoard pic.twitter.com/kpxjW9HPcL

— Rina S Khan Satti (@rinasaeed) March 6, 2022
Wildlife officials made a number of recommendations for the virtual reality zoo that would allow it to be revived in accordance with a high court judgement. In light of this, public entertainment will take up about two thirds of the property.
While portion of the acreage will be utilised to house rescued animals, daily virtual shows that feature cutting-edge films and documentaries will be organised. In addition, 3D shows and visual exhibitions will be organised to educate the public about wildlife and the importance of preserving their independence.
In an effort to revitalise Islamabad Zoo, development on this Zoo will begin in less than 1.5 months. It should be noted that the Zoo received close to a million visitors a year until it was forced to close by a court order. When IHC gave the order to move every animal, including the most lonesome elephant, the zoo was already closed.