News
Realme GT Master Discovery Edition will launch with Realme UI 5.0 and Android 14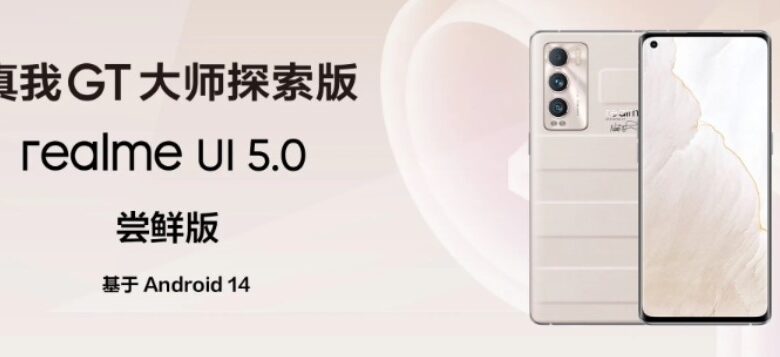 The Realme UI 5.0 x Android 14 early adopter version will be available for the Realme GT Master Discovery Edition tomorrow, the company said this afternoon.
ever-present support
The Realme UI is now available on all of our smart vehicles. Smart cross-end services for driving scenarios are made possible by the new Car+'s ability to project the screen directly into the car system.
Intelligent and productive
I want to move my gadget into the device space so that I may more easily manage my linked devices and exert unified control over them.
Realme GT Master Discovery Edition will launch with Realme UI 5.0
Streamline office workflow by perfecting portable workstation synchronization across devices.
Improve the accuracy of text recognition and add support for handwriting recognition in various languages.
Realme GT Master Discovery Edition
Improve the process of moving mobile phones, verifying replacement phones, and moving data from one device to another.
Privacy watermarking makes it easy to protect personal identification images before publishing them online.
Strengthen the safety of application access by enhancing photo and video permission control.
Enhancing Capabilities
Enhance reliability, accelerate application launches, and refine animation smoothness
Water-based layout
An improved aquatic color system that uses a natural, gentler, and more transparent user interface design to provide a more relaxing and enjoyable color experience.
Improved sound quality, added ringtones with an aquatic theme, and refined the system's UI prompt sounds.
Improve the system's dynamic effects for a more refined and fluid aesthetic.
Improve the system's unique input technique so that obscure characters may be seen and typed.
Problems with this beta version include:
In some network configurations, the likelihood of a WiFi dropout is vanishingly small.
WIFI automatically reconnects as a failsafe
Registration for the early adopter edition will begin at 10:00:00 on November 9, 2023, and continue until 1,000 persons have signed up. In addition, the Realme GT Master Discovery Edition RMX3366_13.1.0.201 system update is required for access to the early adopter version.
It's important to remember that before upgrading to the early adopter version of Android 14, users must update all programs to the most recent versions available in the software store, as not all third-party apps have been updated to work with Android 14. They must be patient and wait for future upgrades of the application if there are any compatibility concerns. adaptation. Banking apps and apps dedicated to companies/organizations require specific care.