News
realme Mobile Phone Once Again at the Pakistan Day Sale on Daraz
Time to Grab You Favourite realme Products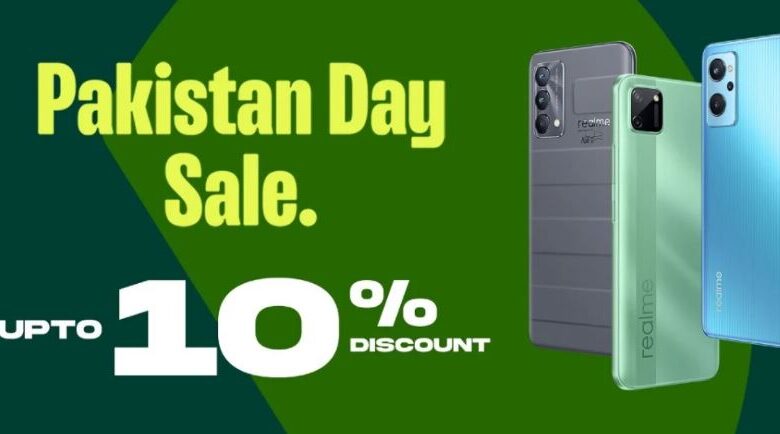 In addition to loading its handsets with the latest features and making them available to consumers in the lower price bracket, realme is regarded as a brand that provides exceptional value for money. Smartphone manufacturer focuses on being the first to offer new technologies in their pricing range whenever possible. So, let's have a look at some of the things that will be available during the Pakistan Day Sale in advance of the event.
There will be at least one model of each smartphone series from realme's extensive arsenal on display during the selling period. Among those affected are the realme Number series, the realme GT series, the realme C series, and the realme Narzo series, all of which will see their prices reduced.
But the most thrilling of all is the realme 9i (128GB), which is the most recent release and will also be included in the sale as a bonus. It provides everything for everyone with to its Qualcomm Snapdragon 680 6nm processor, Stereo Prism Design, 50MP AI Triple Camera and 33W Dart Charging capabilities, among other features. On Pakistan Day, the realme GT Master Edition (128GB), which was named Smartphone of the Year in 2021, will be on display at Daraz, serving as the official representative of the realme GT series. This smartphone is built using a design concept that is completely unique and is based on the concept of a luggage and travelling. The realme Narzo 50i (64GB) from the realme Narzo line will be available for purchase, and it is a powerful gaming device that gives excellent performance at an affordable price.
The realme C11 (32GB), realme C11 (64GB), realme C21 (32GB), realme C21Y (64GB), realme C25s (128GB), and realme C25Y (64GB) are the phones with the most representation at the Pakistan Day Sale, with the realme C11 (32GB), realme C11 (64GB), realme C21 (32GB), realme C21Y (64GB), realme C25s (128GB), and the realm In addition to being the most affordable range of smartphones from the brand, the realme C series is even more affordable now that Pakistan Day discounts have been applied.
During the event, realme will also host two Daraz Live sessions, the first of which will take place on Monday, March 21, 2022 at 08:00 pm with Warisha Khan and the second of which will take place on Wednesday, March 23, 2022 at 01:00 pm with Warisha Khan. There will be interesting giveaways of realme goods at both of the sessions. You can expect a combination of realme's AIoT goods, including the realme Buds Air 2, realme Buds Q2, realme Smart Band, and the realme Power Bank, which has a capacity of 10,000mAh and can charge devices at 30W using Dart Charge technology. Other prizes will include the realme Motion Activated Night Light and realme smartphones such as the realme C11 and realme C21Y, among others.