News
Realme TechLife Watch R100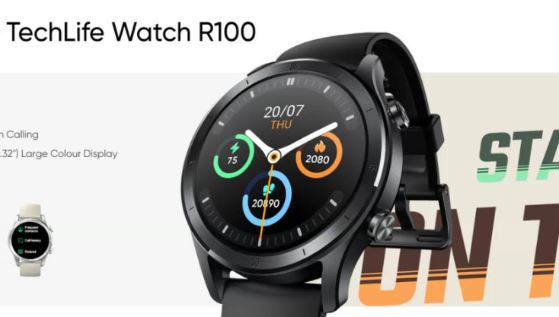 After the launch of the Realme C30 smartphone on the 20th of June, the next product to be released is the Realme TechLife Watch R100, which is a smartwatch. The date of the watch's debut on the market, the 23rd of June, has been scheduled by the firm.
A 1.32-inch TFT colour screen with a resolution of 360 x 360 pixels will be featured on the TechLife Watch R100, which will also have a circular shape and colour display. The case of the watch is crafted from aluminium alloy, and it has a matte back cover. On the right side of the Watch R100, you'll find two buttons that are quite similar to those seen on the Watch S and Watch S Pro.
The Apple Watch will come packed with Bluetooth calling functionality, allowing users to place and receive calls when the device is paired with a compatible smartphone. The watch's battery has a capacity of 380 mAh, and the manufacturer guarantees that it will hold a charge for seven days under normal circumstances. Just two hours are needed to get a full charge from it.
The Realme company has announced that the Watch R100 will be available in two different colour options. Despite the fact that the colours have not yet been decided. The manufacturer has not disclosed whether or if they intend to offer interchangeable straps in a variety of hues that can be purchased separately from the watches so that customers can personalise their timepieces.
The launch will take place in just three days. We will shortly gain access to all of the specifics and in-depth information regarding the functioning of the watch.
Advertisement