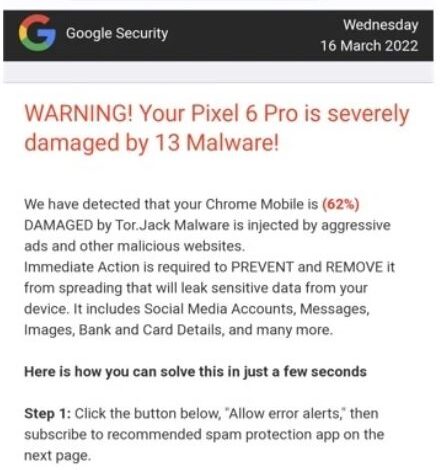 If a website claims to be Google Security and even displays the classic Google "G" rainbow icon, it is likely to be a fraud. The email seen in the accompanying image was received by this writer. The message is written at the top of the message in a bright red font "WARNING: This is a dangerous game! 13 Malware has caused significant damage to your Pixel 6 Pro!"
In addition to drawing your attention to the usage of the Google emblem and a heading stating that your phone has been infected with malware, the email goes on to state that Chrome Mobile has been infected with malware (62 per cent) by TorJack malware. It goes without saying that "urgent action is essential" because otherwise sensitive data from your device, including social networking accounts, messages, photographs and bank and credit card accounts, may be leaked.
Now comes the phase that you should try to avoid at all costs. Whatever the email says, do not click on the "Clean my Device" button. Do not do anything that this email instructs you to do, otherwise, you may wind up seeing unwelcome pop-up advertisements all over your screen for porn sites, false updates, online games, and other things you don't want.
It's possible that these communications are comparable to those bogus texts that claim you've won an iPhone and that utilise the names of well-known corporations such as Walmart or Amazon to make them appear legitimate. To be eligible for the reward, you only need to provide your social security number. DON'T MAKE THE MISTAKE!
Hopefully, not a large number of consumers were taken advantage of. One quick and dirty technique to check for errors is to look for spelling mistakes or sentences that do not make any sense at all. It is unlikely that a firm such as Google would let the very first sentence of this spam to reach customers without first correcting the few grammatical errors that can be found in it.