News
Ufone 4G offers unlimited free internet
Ufone 4G offers First Time In the 5G Market unlimited free internet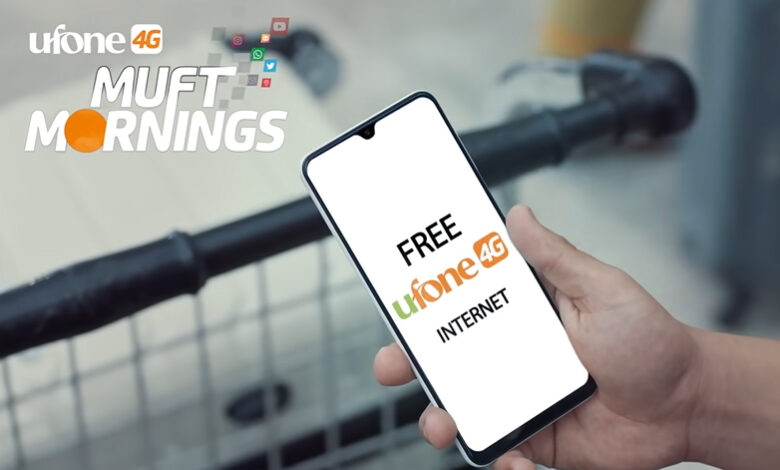 Ufone 4G is providing customers with unlimited free internet access on a daily basis in order to allow them to experience its superior data quality and blistering speeds. Users of Ufone 4G can get unlimited data from 9 a.m. to 12 noon every day as part of a limited-time promotion that does not include any underlying charges (known as "Muft Mornings").
Earlier this year, Ufone 4G acquired a 4G spectrum in order to fulfil its long-standing commitment to providing customers with high-quality data services. As promised, the transition has resulted in significant improvements in network quality and internet speeds, providing Ufone 4G customers with a superior user experience. The 'Muft Mornings' promotion seeks to extend this superior user experience to even more customers, allowing them to enjoy true enablement as well.
When it comes to providing data completely free of charge and without any hidden fees, 'Muft Mornings' is the first and only offer in the industry that does so at a time when the majority of customers can actually use the internet. In addition to bringing superior 4G experience within reach of low-income groups, students, and youngsters, it also allows them to enjoy unlimited free internet for education, entertainment, and any other communication needs. Earlier, it was only available to business customers.
As a result of the offer, Ufone 4G is demonstrating its long-term commitment to raising the bar in terms of network quality, seamless connectivity, and internet speed in the telecom industry, resulting in an upward spiral for data users in general. As a result of the company's continuous innovation and investment in network up-grading and modernization, the industry's healthy growth and innovation trends are being accelerated.
Customers who have purchased prepaid Ufone 4G service are eligible for the free data offer and can take advantage of unlimited downloads and streaming by dialling *4200# from their phones. For the next 14 days, subscribers will be able to access the internet as part of the promotion.
The one-of-a-kind offer strengthens Ufone 4G's reputation as a customer-centric Pakistani brand that is constantly on the lookout for opportunities to enable and empower its customers. The company's never-ending pursuit of and long-term commitment to providing the best value to its customers is beautifully captured in its beloved slogan, 'Tum Hi Tou Ho!', which signals the company's intense customer focus: 'Tum Hi Tou Ho!
Advertisement