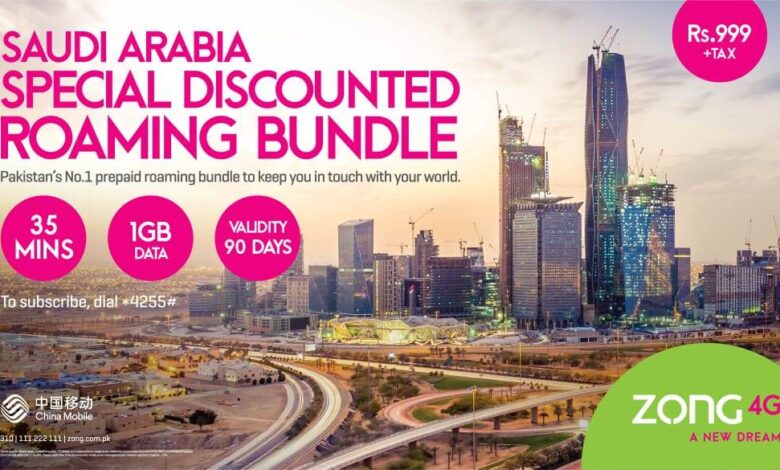 To help those traveling to Saudi Arabia for the Hajj, Zong 4G, the top telecom provider in Pakistan, has launched Zong Data Roaming Offer. By making available affordable Data Bundles while performing the Hajj. This promotion intends to guarantee that people may readily contact their relatives and friends back home.
This deal was created by Zong 4G to meet the demands of both business and Hajj pilgrims, enabling them to maintain contact during their visit to Saudi Arabia. The service offers reasonable data roaming prices to help travelers stay connected.
Customers may get 1 GB of data for constant access when visiting Saudi Arabia for only Rs. 1200 including tax.  Additional data packages from Zong 4G include 3 GB for Rs. 3300 plus tax and 5 GB for Rs. 5400 plus tax.
Zong Data Roaming Offer
| | | | |
| --- | --- | --- | --- |
| Saudi Arabia Prepaid IR Data Offer | 1 GB | 1200 +T | 15 Days |
| Saudi Arabia Prepaid IR Data Offer | 3 GB | 3300 +T | 30 Days |
| Saudi Arabia Prepaid IR Data Offer | 5 GB | 5400 +T | 45 Days |
The additional benefit of WhatsApp audio and video calls, which are not normally offered by local carriers in Saudi Arabia, is another feature of Zong 4G's roaming services there. Customers may simply converse with their loved ones back home thanks to this function.
The Zong 4G official spokesman reaffirmed the firm's dedication to providing outstanding services that satisfy its clients' expectations.
"The Zong 4G team is always committed to providing its customers with innovative solutions to meet their needs. We understand that staying connected with loved ones is essential, especially during Hajj and that is why the roaming data offer is the ideal solution."
The Saudi Arabia Roaming Offer is available to all Zong 4G customers and for further tariff details and subscriptions to Zong Data Roaming Offer, customers can dial *1234#, subscribe through the Zong website (https://www.zong.com.pk/international-roaming) or My Zong App.
Advertisement