Blog
7 SEO tips for WordPress sites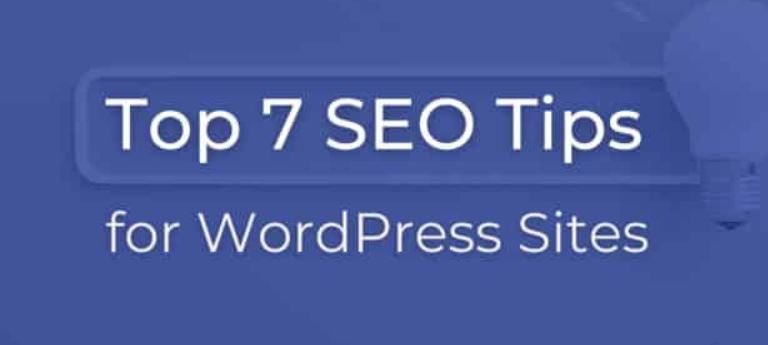 1. Ensure that the HTTPS protocol is active.
When you use an SSL certificate to secure your website, you let your visitors know that your website is secure, which in turn boosts your site's ranking. SSL certificates can be obtained for free as well as for a fee. Use a plugin such as Really Simple SSL once you have an SSL certificate installed for your website in order to ensure that your content is provided using a secure protocol after you have done so. 7 SEO tips for WordPress sites
2. Optimize your URLs
When it comes to creating URLs that are beneficial to SEO, having a solid permalink structure is essential.
WordPress already provides you with this functionality after installation, but if you want even more customization options, you can add plugins to make changes to it. When optimising the pages on your website for specific search queries and keyword phrases, URL optimization is a crucial aspect to take into consideration. It is regarded a smart practice for on-page SEO to include your major keyword in the URL of your website. When a search engine "crawls" your website, it is simple for them to comprehend the subject matter of the pages they find there.
3. Make use of an SEO add-on.
The use of SEO plugins is a fantastic method for diagnosing and enhancing both technical and on-page SEO recommendations. Take into consideration the installation of one of these suggested plugins. One of the most widely used plugins for WordPress is called Yoast SEO. The free edition of Yoast offers a set of tools that can improve the readability of your material while also helping to optimise it for search engine results. Rank Math is a user-friendly control panel that, when added to a website or post, enables you to quickly identify edits that would have a beneficial impact on your SEO.
4. Meta descriptions
A meta description, also known as a tag, is a component that provides a synopsis of the information included on a page or post. It provides search engines with a condensed summary of the content that they can read or discover on your website. Due to the fact that Google only shows 275 characters, the maximum length of a meta description should not be more than this. Your search engine optimization (SEO) rank can be improved by having a post with an engaging meta description that attracts more visitors. In order to facilitate lookups, it is recommended that you include your keyword in both the meta description and the content of your website
5. Develop engaging pieces of information
One of the most effective approaches to increasing your SEO is to provide content of high quality. The depth and breadth of high-quality content extend much beyond the information that you write or develop for your website. Make sure you have a comprehensive understanding of the topic you are writing about, and do some research on relevant keywords, in order to successfully attract the interest of your readers. On your website, you should try to avoid creating duplicate material. The term "duplicate content" refers to concepts or subjects that have already been developed or addressed on your website. This type of content will have a negative impact on your website's search engine optimization score. The E-A-T model, which promotes trust with your user and an overall better SEO ranking, is a fantastic model to follow, and it can be found here. What exactly is the E.A.T. content? Google will utilise its search quality guidelines to determine whether or not the information on a website is beneficial for its visitors. Although it is not a factor in SEO rankings, it does affect how easily your content can be read. E.A.T. is an abbreviation that stands for "expertise of the writer," "authoritativeness of the material or site itself," and "trustworthiness of the content that is offered."Making sure that your website has an "about us" page helps demonstrate to your readers that you are an authoritative source in your field. Your search engine optimization (SEO) will improve as a result of your collaboration with other subject matter experts.
6. Site optimization
The speed of a website is another issue that should be considered when optimising it for search engines in the modern era. A large number of visitors want that material to be delivered as quickly as possible, and every second counts. Use a hosting provider that is optimised for your WordPress site and has solutions for server-side caching, such as NGINX or Redis. InMotion Hosting's Ultrastack is a good illustration of WordPress hosting that has been optimised, as it makes use of NGINX to intelligently cache frequently-used resources in order to conserve memory. In addition to that, images need to be optimised. Your website will experience strain if the files are too huge or if it takes too long for them to load. Loading times can be cut down significantly by serving content through a content distribution network (also known as a CDN).
It is possible to use additional hosting resources, such as Cloudflare, in addition to the one that is provided by the Jetpack plugin, which is a free image CDN.
You can utilise a caching plugin such as W3 Total Cache or WP Rocket if the server-side caching that you require is not provided by your current web hosting provider.
7. Make sure to monitor your stats regularly.
When it comes to monitoring how well your website is doing, Google Search Console and Google Analytics are vital tools. These metrics provide you with in-depth information regarding the ways in which site visitors engage with the content that is hosted on your website.
Bing's Webmaster Tools and third-party options like Semrush are also available to users as additional resources.
Utilizing these tools enables you to analyse not only the rate of your keywords but also the speed of your site.
Advertisement