Blog
Daraz launches Daraz Advertising Solution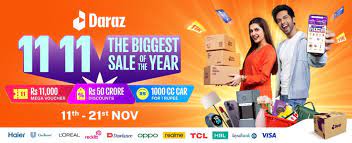 Daraz is pleased to announce the official launch of Daraz Advertising Solution (DAS), a full-funnel advertising suite designed specifically for sellers and brands that are registered on the platform. With more than 27 million monthly active users, Daraz is now Pakistan's fourth-largest platform. Through DAS, it will be introducing the third wave of digital advertising in the country, and it will offer the first self-serve advertising tool that has been launched by a local e-commerce brand. Daraz is now the fourth-largest platform in Pakistan. At first, DAS will provide partner brands and sellers with the opportunity to choose from the following three types of onsite and offsite advertising options:
Advertisements hosted on external websites, such as Google Ads and Facebook Collab Ads, can direct a more specific audience to a company's brick-and-mortar locations.
Daraz launches Daraz Advertising Solution
First-party data is of immense value to advertisers because large-scale platforms are becoming more saturated and are planning to phase out third-party cookies. On the other hand, e-commerce platforms enable advertisers to target their customers in a much more granular manner based on buyer personas, demographics, and preferences. Due to the fact that the majority of advertising occurs close to or around the point of purchase, retail media is the advertising solution that is expanding at the quickest rate worldwide.
Every month, Daraz's platform processes more than 100 million user queries for search results. With Daraz Sponsored Search, all sellers will be given an equal opportunity to compete for bids on their respective keywords and increase their conversion targets from the largest in-market audience in Pakistan. This will be made possible through a level playing field that will be provided by Daraz. Through their preexisting accounts in the Daraz Seller Center, brands are able to create campaigns. Within the campaign, they have the ability to select the products they want to boost on search results and bid for keywords using a real-time bidding model. This is done within the context of the campaign. P&G, Reckitt, Nestlé, Dawlance, and Haier are among the well-known companies that have already joined DAS as customers.
"Retail advertising has gained enormous popularity all over the world and has become one of the most effective marketing vehicles as a result of its ability to engage high-intent shoppers close to the point of purchase, which in turn increases ad conversion rates and sales." Innovation is one of the primary forces that drive Daraz's business model, and we are thrilled to usher in a fresh approach to advertising in Pakistan. We are confident that our insights will assist brands in achieving maximum efficiency and growth, as we have accumulated the largest audience base for a homegrown platform over the course of our company's existence. The Chief Marketing Officer at Daraz Pakistan, Muhammad Ammar Hassan, made this statement.
Advertisement