Blog
Trending
Daraz 11.11: Bringing Pakistan Biggest Sale
Daraz Mega Sale 2022: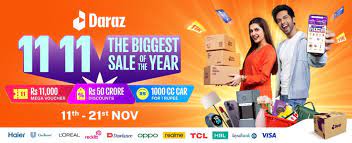 Daraz 11.11: Bringing Pakistan Biggest Sale
The Daraz 11.11 sale aims to provide consumers with discounts on millions of items from countless brands and various categories. The Daraz 11.11 sale provides savings on 16.3 million goods, with over 900 brands and 18,000+ vendors actively offering at lower prices, according to the latest information.
The biggest Daraz 11.11 offers from the retail titan have been made public online! The sale products will go on sale on November 11 at exactly 12 o'clock due to all the price reductions. The Daraz 11.11 Sale of this year provides fantastic discounts on well-liked products including Dell Inspiron laptops, Apple iPhone 14 Pro Max, Moltyfoam mattresses, Haier LED TVs, and many more.
From November 11 to November 21, there will be a big discount. Make sure you load your basket well in early, though, since the top offers and goods frequently sell out within minutes of the sale being live at midnight.
Some of the offers that will be accessible during the Daraz 11.11 sale, which starts on November 11th, are listed below.
Instead of paying Rs. 51,300, pay Rs. 45,499 for a MoltyFoam Mattress.

Instead of paying Rs. 50,998, Sony is offering its market-leading noise-canceling truly wireless earbuds for Rs. 46,499.

Instead of paying Rs. 64,900, spend Rs. 50,999 on a Habitt Osborne sofa.

Treadmill for Rs. 64,000 as opposed to Rs. 74,799 Tissot Women's Watch for Rs. 57,576

To benefit from the Daraz 11.11 offers, don't forget to add these goods to your basket. Be sure to check out your favorite things as soon as November 11 rolls around by setting an alarm for 11:59 p.m. On November 10.
Daraz Mega Sale 2022:
Customers have been waiting for the 11.11 sale since it started in 2018 to satisfy their shopping demands and save money thanks to the abundance of discounts, offers, and huge rewards. Due to the best pricing Daraz guarantees, the 11.11 sale is the ideal opportunity for customers to make large-scale critical purchases and high-involvement purchases while inflation in the country is at an all-time high and people are battling to maintain their quality of living.
For the previous four years, 11.11 has been both Daraz's biggest annual campaign and the greatest selling day in the whole nation.  The Daraz 11.11 sale is the ideal spot for Pakistanis to make all of their purchases while getting to save greatly at a time when inflation is hitting every citizen.
50 crores of Pakistani rupees are being provided in discounts overall. Mega Deals will be available on the site beginning in November, allowing customers to explore and add items to their carts before 11.11 goes online. Daraz has worked with 15 banks and payment partners, including HBL and Visa, to offer additional discounts to users who want to pay using their bank cards. The biggest national consumer brands have joined forces with the platform to make 11.11 more popular than ever. Unilever, P&G, Reckitt, Loreal, Haier, Dawlance, OPPO, Infinix, Moltyfoam, Sapphire, and several other companies are among them. For customers choosing Express Delivery, all products come with a guaranteed seven-day return period and same-day delivery.
What does Daraz 11.11 have to offer?
You may save up to Rs. 50 billion during Daraz's incredible 11.11 sale on 15 million different items! With the One Rupee Game, the Golden Hour Sale, the Mystery Boxes, the Mega Deals, the Discount Offers from our brand, and so much more, you may save an unlimited amount of money.
What is Daraz's golden hour?
During the Daraz app's Golden Hour from 12 am to 1 am, get a selection of items for just Rs. 11.
How Do I Play the Daraz One Rupee Game?
Go to the app and choose a product that can be purchased.
Purchase the item for Rs 1 using your Daraz Wallet.
Win a prize by qualifying.