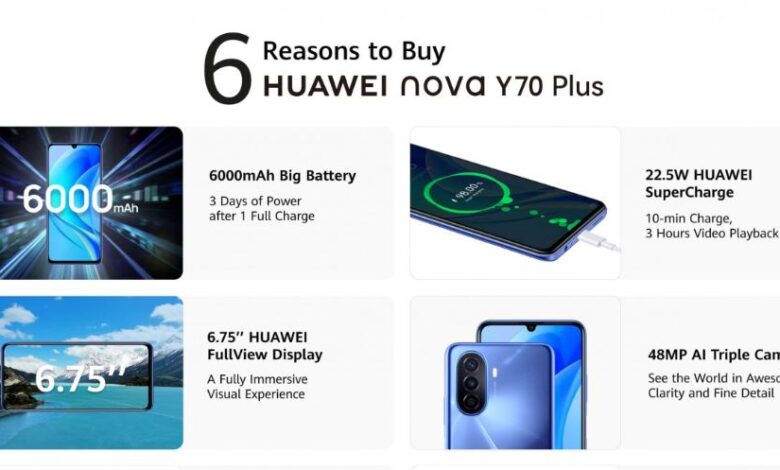 As it turns out, Huawei is working on a new smartphone, which will be a member of the company's growing nova family of mid-range devices. Let me introduce you to the Huawei Nova Y70 Plus, ladies and gentlemen! In preparation for sales to begin on May 1, the Chinese corporation has just made a semi-announcement for the South African market. A teaser page has already been set up on the website.
It's also possible to place a pre-order for one from April 21 to April 30, with a deposit of only ZAR 99 (about $6). By paying the remainder between April 28 and May 6, you will receive a ZAR 499 ($33) discount on your purchase.
The story doesn't end there. Moreover, if you place an advance order, you will receive a Huawei Bluetooth speaker as well as a Huawei backpack, which are both valued at ZAR 1,298 ($86). The good news is that there's more! You'll also receive a 24-month warranty, 50 days of free screen replacement insurance, three months of extended warranty, the Huawei Unboxing Service, and free repair shipping and delivery as part of your package.
It's understandable if you're curious about what this phone offers. Through its listing in South Africa, Huawei has kindly revealed the essential specifications of the nova Y70 Plus.
The phone includes a 6.75-inch screen with an unknown resolution and a waterdrop notch that houses an 8 MP f/2.0 front camera, 64 or 128GB of expandable storage, and a 6,000 mAh battery with support for 22.5W fast charging. The phone is available in black or white. There are three cameras on the back of the phone: a 48-megapixel primary sensor with an f/1.8 maximum aperture, a 5-megapixel ultrawide sensor with a 120-degree field of view, and a 2-megapixel depth camera.
In addition to Crystal Blue, Pearl White, and Midnight Black colour options, it will operate on EMUI 12 and be available in three different finishes. However, if you live in South Africa and enter your email address at the Source linked below in order to be notified when more information becomes available, there is a chance to win a nova Y70 Plus for yourself. It is unclear where else it will be launched and when, and the price is also still a mystery.