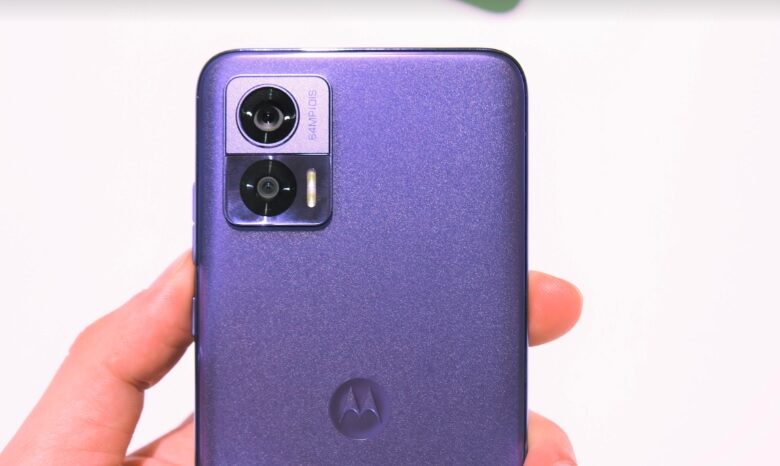 The Motorola Edge 30 Neo is a brand new member of the Edge family, and it was introduced with the intention of introducing the same stunning design as its siblings, the Edge 30 Fusion and the Edge 30 Ultra, but at a price that is significantly more reasonable.
With the Edge 30 Neo, Motorola has placed a significant emphasis on colour, and the firm has even partnered with Pantone, the industry leader in terms of consistency and accuracy. This reasonably priced Motorola Edge comes in a variety of colour options, each of which features a Pantone chip inlay on the rear of the device. Although Motorola claims that this inlay is unobtrusive, we beg to differ with their assessment.
Motorola Edge 30 Neo Design & Colors
The back panel of the Edge 30 Neo, on the other hand, is composed of plastic, in contrast to the metal back panels of the Edge 30 Fusion and Ultra. In spite of this, the plastic seems to be of a high grade, in contrast to some of the cheaper models in the Moto G series.
Because the frame is also made of plastic, it is more susceptible to being damaged and therefore needs to be safeguarded. On the other side, the phone is relatively light in the hand due to the fact that it is built out of plastic. Additionally, due to the phone's thin profile, it is also simple to handle. It is only 152.9 by 71.2 by 7.75 millimetres, thus it takes up very little space.
You do not get the edge lighting notifications feature as you do on the other two phones, but Motorola has found another way to fill in that gap — an LED band wraps around the camera housing, lighting up in different ways depending on the notification that is being received. In other words, you do not get the edge lighting notifications feature as you do on the other two phones.
Motorola Edge 30 Neo Display
Much like its siblings, the display is one of the Edge 30 Neo's stronger features. It is a 6.28″ pOLED display and comes with a resolution of 2400 x 1080 and a 120Hz refresh rate. The screen seemed perfectly fine while we gave it a quick test during our hands-on experience, but we will have to wait until our benchmarks, as the brightness is not mentioned and needs to be measured.
Motorola Edge 30 Neo Camera
The Edge 30 Neo comes with two cameras on the back and a selfie camera. On the back, you will find a 64MP main snapper with optical image stabilization (OIS) and pixel binning, which helps achieve better low-light shots by combining multiple pixels into one to capture more light.
You also get a 13MP ultra-wide that can also function as a macro camera thanks to Macro Vision. Unfortunately, you don't get OIS on this camera, but that's to be expected at this price point. As for the front-facing shooter, it has a total of 32MP.
We will test all of these cameras out during our full review of the Motorola Edge 30 Neo, so stay tuned if you want to find out whether they are good enough for everyday shots.
Motorola Edge 30 Neo Performance
The Edge 30 Neo comes with the Snapdragon 695 5G from Qualcomm, which is also found in other phones like the OnePlus Nord CE 2 Lite 5G. It should be a good enough chip for everyday browsing and tasks, and playing some light games every now and then.
In terms of RAM/storage combos you get two:
Of course, we will be putting the Edge 30 Neo through our benchmarks and tests for the complete review, so keep an eye out as we will have it ready for you soon enough.
Motorola Edge 30 Neo Battery and Charging
The Motorola Edge 30 Neo comes with a 4020mAh battery. The maximum charging speed is 68W via a cable and 5W via a wireless charger. Good news is that even this cheaper model comes with a TurboPower 68W charger right in the box, so you don't need to buy one yourself.
It's worth mentioning that even though there is wireless charging on the Edge 30 Neo, it should go without saying that there is no reverse wireless charging.