Mobiles
realm C33 Re-do Pakistan's Best Design and Photography Now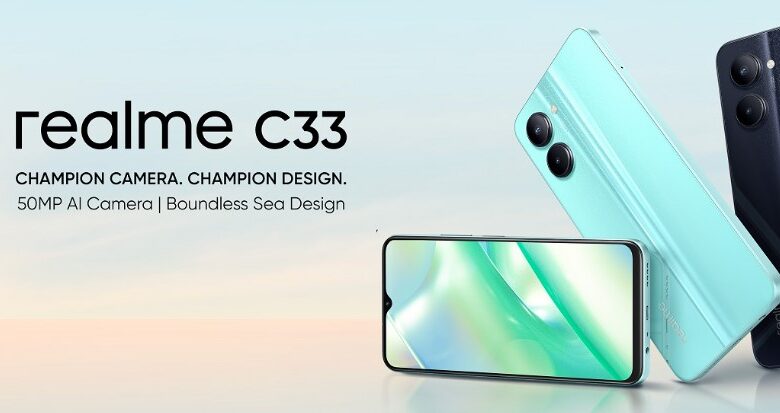 Exciting information for those who are interested in technology and who use smartphones in Pakistan! The Realme C33, which is one of the most sought-after smartphones as a result of its unparalleled combination of top-tier features and inexpensive pricing, is stocked in every market across the country. This follows the overwhelming demand for the item, which resulted in it being sold out shortly after it was first made available to the public.
A standout in Realme's C-Series portfolio, the Realme C33 is now available in two different configurations, one with 4GB of RAM and 64GB of storage, and the other with 4GB of RAM and 128GB of storage. With these two new variants, even more users will have access to the compelling features and solid performance that have been synonymous with the Realme brand. All of this will be available for the affordable price of PKR 44,899/- for 4GB + 64GB and PKR 54,999/– for 4GB + 128GB, respectively.
realm C33 Re-do Pakistan's Best Design and Photography Now
What is it about the Realm C33 that makes it such a popular choice? Let's get into the nitty-gritty of its capabilities. This mesmerizing smartphone features a Mini Drop display that measures 6.5 inches and provides a thrilling full-screen experience. The screen has a resolution of 1600 by 720 pixels, and it also has a trendy notch called a waterdrop. These features make it an excellent device for gaming and watching videos. The ultra-thin body of 8.3 millimeters oozes sophistication, while the textured finish gives an additional touch of elegance to the device.
Users are able to multitask without a hitch and handle difficult programs with ease on the realm C33, which is equipped with a powerful Unisoc T612 Processor. The Realme C33's sleek design belies its powerhouse capabilities. In addition to that, it runs on the most recent version of the Android operating system, which is 12, which makes for an experience that is both user-friendly and fluid.
The capabilities of the camera are not diminished in any way by the Realme C33. It has a primary camera with 50 megapixels and artificial intelligence, so users can easily take photographs that are gorgeous and detailed. Every image that is taken has the potential to be a masterpiece because the camera has so many different modes, such as Night Mode, HDR Mode, Timelapse Mode, and Panoramic View Mode.
The formidable combination of the Realme C33's sturdy 5000mAh battery and its powerful 1.8GHz octa-core processor is one of the primary selling factors of this device. This provides a high level of performance throughout the whole day, especially when juggling a number of demanding responsibilities at once. Users do not need to worry about running out of space because they can save all of their essential files, including photos, videos, and documents because the storage capacity can be expanded to a maximum of 256 gigabytes.
For the most part, the Realme C33 provides a fantastic combination of design, performance, and price. As a result, it is an excellent option for individuals who are looking for a high-quality smartphone that does not exceed their budgetary constraints. Be quick to snag one for yourself while supplies still exist!
Advertisement