Mobiles
vivo X80 as a leader in the global Smartphones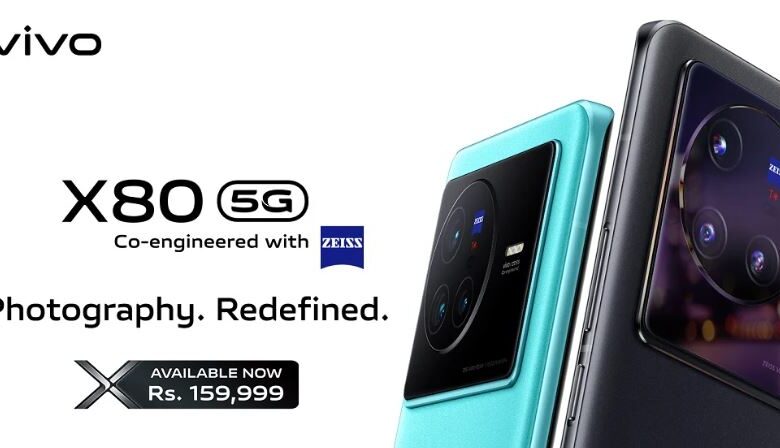 A decade ago, there was nothing that could compare to the convenience that modern technology provides, such as laptops and cameras. On the other hand, if you look at a smartphone in the present day, you will see that it is the ultimate replacement, and it is only growing better at what it does. You can accomplish the same things on your mobile devices as you can on your computers. Companies provide support for Android and iOS for everything significant that hits the market.
When we talk about digital cameras, the story unfolds in a manner that is very like to this one. A few years ago, smartphones were not at all focused on camera functionality, and as a result, they were unable to take the position of high-quality digital cameras. On the other hand, considering how far technology has come, we have come to the conclusion that it is not implausible that smartphone cameras will eventually come to dominate the market for cameras. It is mind-boggling to see how much innovation and technology have been incorporated into smartphones in recent years. Take for example the global leader in the smartphone industry, Vivo. Its V and X series smartphones, which feature game-changing cameras and imaging technology on par with that of expensive digital cameras, have been turning the industry on its head. vivo is a leader in the global smartphone industry. They have features and specifications that are mind-boggling, but they are high end and easy to use. By utilising its X series, Vivo is able to transform even the most casual of users into proficient amateur photographers. Even well-known experts and enthusiasts in the field of technology have voiced their approval of it. After all, ZEISS and Vivo collaborated in order to bring this great series into existence, and both companies have been working hard to make incremental improvements with each new release. The X70 Pro was the product that helped them set new standards in the smartphone sector last year, and it left people wondering how photography at a quality comparable to that of a DSLR can be accomplished with a device that is small enough to put in their pocket.
This brings us up to speed on the most recent highlight, the Vivo X80. You did hear it correctly, I assure you! A new instalment in the X series that, just like its predecessors, is going to wipe the slate clean and shatter previous records. This brand new piece of hardware, which was just released to the public, is the result of Vivo and ZEISS working together once more to create a technological marvel. This phone is capable of accomplishing everything and everything thanks to the research and development efforts of Vivo as well as the expertise and equipment of ZEISS. In the end, this smartphone is equipped with a 50MP Ultra-Sensing Sensor, which grants the user the ability to take stunning photographs under any lighting conditions, regardless of whether the environment is dim or bright. The camera technology incorporates the much-talked-about ZEISS T* Coating, which will help reduce the amount of light reflection and assist in achieving the pinnacle of low-light photography by capturing excellent images that are vibrant and rich in colour. That is unquestionably something that will help its users advance their photography to an extraordinary level. But that's not all; this phone comes with a tonne of additional cool features and cutting-edge technology that you may take use of. vivo's very own Vivo V1+ Chip is going to be your most valuable ally in the pursuit of perfection. It provides the device with the enhanced image, display, and game visuals that are superior to the standards set by the industry.
The device also offers aficionados of filmmaking the ZEISS Professional Video, which is the pinnacle of technology for videography. This function includes a number of different professional modes, some examples of which are ZEISS Cinematic Style Bokeh and AI Video Enhancement. The ZEISS Cinematic Style Bokeh offers users an effect similar to that of a film lens, which makes films look more refined and cinematic. On the other hand, the AI Video Enhancement makes it possible to have smooth transitions between scenes by monitoring the environment and supporting the camera in adjusting to any changes it finds. These shooting modes are absolutely necessary for the maturation of a photographic expert.
Because of the phone's ZEISS Style Portrait feature, which enhances the user's experience when taking portraits, it is useful not only for professionals in the field of videography but also in the field of photography. The Super Night Portrait is designed to work in conjunction with it and gives users the opportunity to take stunning photographs even in dimly lit environments.
The MediaTek Dimensity 9000 Processor is the driving power behind the device that makes all of this possible. Without it, none of this would be conceivable. The performance of this robust processor has been significantly improved by an astounding 45 percentage points in comparison to its predecessor. The fact that this alone makes it a powerful technology is what will prove to you that your experience will be fluid and smooth by boosting the gaming, streaming, and other multitasking capabilities of the phone. All of this is made possible by a robust 4500mAh battery that features a FlashCharge output of 80W. This robust battery will allow you to continue using your smartphone as normal throughout the entire day without having to make any adjustments to your routine. Even when it is necessary to charge, the 80W FlashCharge will throw conventional thinking on its head by providing the user with the ability to charge quickly.
The X80 enhances not just a creative and professional way of life, but also a person's sense of fashion and how they present themselves to the world. In vivo mobile devices have historically been regarded as the most stylish and aesthetically pleasing options available. The X80 is not an exception to this rule. It is a fashion statement in and of itself, and as such, it will cause people to gaze in wonder. It maintains Vivo's characteristic futuristic look while also incorporating a dash of mystique and mythic elements into the design. In terms of the design, the one-of-a-kind Cloud Window 2.0 features a round camera that is balanced on a square plate, which delivers a level of sophistication and class that has never been seen before. The Fluorite AG Glass provides a flawless grip and handheld experience without any smudges or smears caused by fingerprints. The effortless storage of the pocketable device is enabled by its svelte form factor and light curve screen. Even when wearing pants with a snug fit, the phone can be slipped into the pocket with ease, much like butter on toast.
Cosmic Black and Urban Blue are the two sophisticated colours that are available for the X80 smartphone, which, to elaborate further on its outside design, is available in both of those colours. The Cosmic Black is an artistic representation of a dark night sky filled with stars. On the other hand, the Urban Blue conjures up images of a relaxing afternoon on a tropical island.
When one has something that performs so well and looks so good in their hands, they can't help but notice a direct effect on the way they live their lives.