News
PITB and Faysal Bank sign MoU to Facilitate Freelancers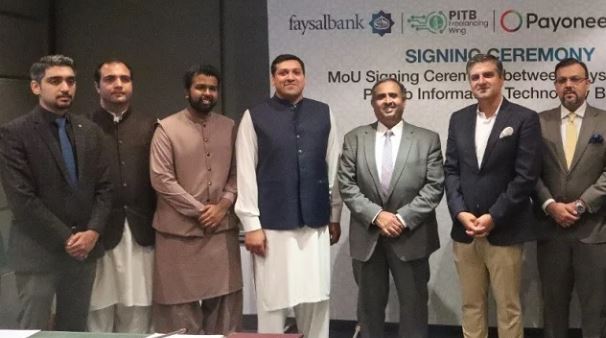 The Memorandum of Understanding (MoU) to facilitate independent contractors all over Pakistan was signed by the Punjab Information Technology Board (PITB) and Faysal Bank Limited (FBL) during a special event held at Arfa Technology Park. In the name of each of their respective organisations, PITB DG e-Governance Sajid Latif and FBL Head CIBG Ali Waqar signed the memorandum of understanding (MOU).
PITB and Faysal Bank sign MoU to Facilitate Freelancers
Senior officials from both organisations, including Payoneer's Country Manager Mohsin Muzaffar and Partnerships Manager Affaf Noor, were present for the meeting. Ahmed Islam, Head of the PITB's JD Freelancing Wing, State Bank of Pakistan's Senior Officer Ali Atta, and Affaf Noor were also in attendance.
The memorandum of understanding states that PITB and Faysal Bank would work together to encourage initiatives and activities that are of common interest for the purpose of the facilitation of freelancers by providing them with a "Digital Freelancer Account."
In particular, FBL would make the Digital Freelancer Account available to both current and future graduates of PITB. In addition, FBL would finance a variety of activities conducted by PITB that are relevant to digital technology, youth empowerment, and the ecosystem of freelancing. As a gesture of appreciation for newly emerging freelancers, FBL will provide laptops to the top performance of each batch, as well as mobile phones to the second and third top performers of each batch. This is in addition to many other advantages. In addition, FBL would market PITB and grant partner privileges to the organisation because of the enormous network of freelancers that the organisation has across Pakistan (alumni and trainees).
PITB is committed, through a variety of initiatives, to meeting the needs of freelancers located throughout Punjab by providing them with employment possibilities and teaching them digital skills. Throughout the course of the past year, PITB has broadened its scope of support by engaging in activities that benefit budding entrepreneurs and freelancers originating from a variety of different social backgrounds. Both men and women are receiving the same training to become economically independent through the PITB's freelancing efforts, which are catering to both genders.