News
Samsung Galaxy A13 and A23
phone sports a 6.6" LCD (1,080 x 2,408 px, 20:9) that operates at 60 Hz and has a resolution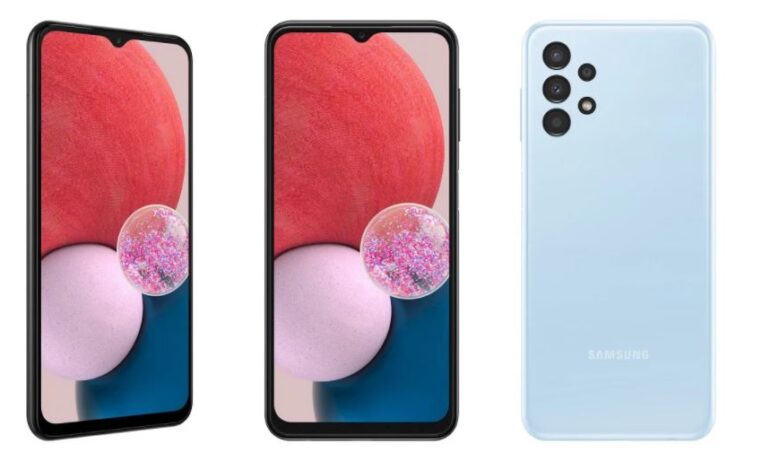 Samsung introduced the Galaxy A13 5G smartphone in December. It has now launched a 4G version of the device. First and foremost, the Galaxy A13 (4G) will run Android 12 with One UI 4.1 on an Exynos 850 chipset (8x A55 @ 2.0 GHz, Mali-G52 MP1), which will be powered by an Exynos 850 processor. It is available with 3, 4, or 6 GB of RAM and 32, 64, or 128 GB of storage, depending on the configuration (there is a MicroSD slot).
Additionally, the phone sports a 6.6″ LCD (1,080 x 2,408 px, 20:9) that operates at 60 Hz and has a resolution of 1,080 x 2,408. The front of the device is equipped with an 8 MP selfie camera. The camera configuration on the back includes a 50 MP main camera (f/1.8, PDAF), a 5 MP ultra-wide camera, a 2 MP macro camera, and a 2 MP depth sensor. Both the front and rear cameras are capable of shooting video at 1080p resolution.
Furthermore, the phone is equipped with a 5,000 mAh battery that supports 25W rapid charging. Pre-orders for the phone are now being accepted in the Netherlands. It is not yet known whether the product would be available in Pakistan. However, we are hoping to have the phone by the end of the month.
This phone is available in a variety of memory configurations, including 4, 6, or 8 GB of RAM and 64 or 128 GB of storage. The phone will ship with Android 12.0 and One UI 4.1 pre-installed on it. The battery has a capacity of 5,000 mAh and supports charging at a rate of 25W.
When it comes to the Galaxy A32, the phone boasts a 6.6-inch LCD display (1,080 x 2,408 px, 60 Hz). A new layer of protection was added: Gorilla Glass 5. The phone also contains a 50 MP main camera with an f/1.8 aperture, a 5 MP ultra-wide sensor, and the two 2 MP assists (macro and depth) that were previously included. It also sports an 8-megapixel front-facing camera.