News
UET Taxila partnered with Huawei
Disruption caused by the pandemic was the ultimate test case for Pakistan's digital ambitions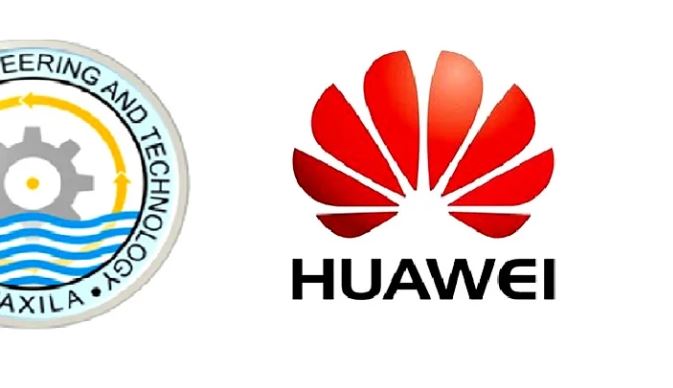 As a result of the pandemic, Pakistan's digital aspirations were put to the ultimate test by the disruption created by the virus. The use of cellphones, tablets, and laptops to perform work, play, and study while the country was shut down last year helped Pakistanis stay connected and operate more efficiently.
All things considered, Pakistan's digital ecosystem has passed with flying colours, highlighting Pakistan Vision 2025 and the Digital Policy of Pakistan, which both envisage a $20 billion ICT economy in the country by 2025.
In spite of this, the digital trends that have emerged as a result of the pandemic call for an evaluation of the current ICT talent development pipeline. Universities in Pakistan, as in other parts of the world, must adapt their teaching and operational methods to meet the demands of a world that is becoming increasingly digital.
How can our universities rise to the occasion and meet the demands of the future? In order to go forward, it is necessary to acknowledge that traditional classroom education alone will not be sufficient to prepare students with the all-round skill set that modern businesses require. Practical experience and a comprehensive understanding of the subject matter are required by students in addition to theoretical classroom instruction. Universities must collaborate with the larger ICT ecosystem in order to utilise the technological strengths that only technology businesses can provide.
The University of Engineering and Technology (UET), Taxila, was one of the first Pakistani universities to recognise the importance of partnerships in the advancement of our students and the growth of the country's economy as a whole. An example of a successful relationship is with Huawei, whose participation includes not just updating the university's computer training curriculum, but also the construction of a futuristic campus.
A school-business collaboration project, Huawei ICT Academy is based at the University of Technology Taxila, and it was established in order to contribute to the development of a more robust talent ecosystem. Huawei assists universities in cultivating ICT talent that matches industry requirements by strengthening the system of collaboration between universities and businesses. This helps colleges provide high-quality talent for industry development, which is beneficial to both parties. These modules are now part of the Computer and Telecom Curriculum at UET Taxila, and they were developed in partnership with Huawei.
There should be a delivery environment that matches the advanced education curriculum. As a result, the construction of a smart campus at UET Taxila has been given high priority. When the university's leadership needed to roll out an enormous Smart and Safe Campus Project that would rely on Huawei ICT infrastructure, they turned to Huawei once again. Consequently, the Huawei Smart Classrooms at UET Taxila and its partner institution Fatima Jinnah Women University have made it possible to have live video conferences and broadcast and record online lectures and classes.
We are eager to help Pakistan's objective of developing a knowledge-based economy now that this digital infrastructure has been established. It is essential to this endeavour that a cutting-edge information and communications technology infrastructure is put in place. The policy framework for rolling out 5G has already been enacted by the government in preparation for the network's eventual launch in April 2023, which is scheduled to take place in 2019. Many of the countries in our region that have previously implemented 5G have already reaped the benefits. Since implementing 5G, carriers in Kuwait, one of the Middle East countries with the earliest and most rapid 5G development, have seen a 4 percent increase in revenue and a 13 percent increase in profit margin. 5G would enable the growth of vertical industries and the achievement of Pakistan Vision 2025, in addition to providing improved connectivity. Current 5G use cases have been implemented in industries such as Digital Oil & Gas and Smart Port, with highly positive results, and we anticipate that 5G will be implemented in many more industries in the coming years.
5G, on the other hand, necessitates a set of abilities that are complementary. A second time, collaborations between business and technology providers will be critical to educating our youth about 5G technologies. Huawei is ramping up 5G training in conjunction with institutions where the technology is available, giving 5G training certificates, and cooperating on creative real-world initiatives in the field of 5G technology. Students can now benefit from Huawei's annual skills development initiatives, such as Seeds for the Future, which provide them with valuable opportunities to immerse themselves in cutting-edge ICT technologies such as 5G and gain valuable hands-on experience. As a result, UET Taxila intends to begin 5G test deployment and research in conjunction with Huawei as soon as the technology becomes available.
Risks are associated with the rapid implementation of new technologies. Despite the fact that this is not unique to Pakistan, the world is confronted with significant cybersecurity concerns as a result of the increased threat landscape brought about by fast digital transformation. In the fight against cybercrime, collaboration is essential. The responsibility for a safer network is on everyone, and we are pleased to see global technology companies like as Huawei collaborating with educational institutions to instruct students on cybersecurity mitigation measures.