News
vivo X80 5G Launch in Pakistan with vivo's Latest V1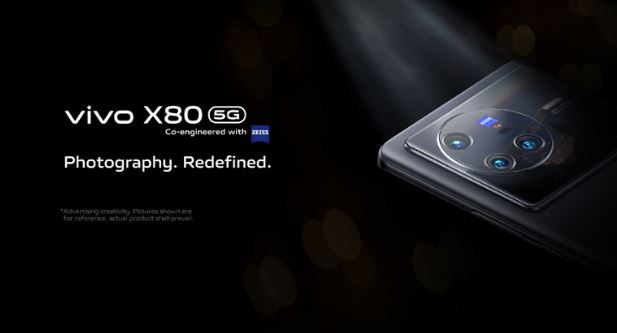 These images are frequently shared among the photography-loving generation, even if they have not been processed because the camera does the processing work. A smartphone with a high-quality camera is highly regarded by the younger generation. The same device can also be used for other activities such as watching intriguing content, playing games, and communicating with friends and family members. All of this is only possible due to technological breakthroughs made by prominent smartphone manufacturers.
Users will get the ultimate mobile photographic experience thanks to Vivo, the leading smartphone brand in collaboration with ZEISS, the world's leading manufacturer of optical components and optoelectronics. More than 175 years have passed since ZEISS established itself as a world leader in optical technology by manufacturing lenses of the finest quality. From a historical standpoint, the collaboration of these two companies was an obvious choice, driven by their shared enthusiasm for imaging technology and the highest levels of quality and precision. In order to provide customers with the best-in-class mobile imaging experience, the Vivo and ZEISS global imaging alliance was founded with the long-term and strategic purpose of providing consumers with the best-in-class mobile imaging experience.
In accordance with leaks, Vivo is preparing to launch another premium smartphone in its X Series, this time featuring a co-engineered system by Vivo and ZEISS for professional-grade photography. The phone is claimed to be equipped with a modified chip from Vivo, which has been designated as the V1+ chip. V1+ is a fully-customized integrated circuit chip dedicated to imaging and video applications with cutting-edge visual quality. It represents a significant milestone as Vivo's first breakthrough in independent research and development and chip design, and it represents a significant step forward in the company's history. Even in low-light environments, the chip is able to significantly improve night video denoise and brightness, as well as display and gaming graphics, resulting in exceptional video quality despite the circumstances. Because it is designed to work in conjunction with the Vivo imaging system, the Imaging Vivo V1+ Chip has a greater capacity to meet user needs by optimising smartphone application scenarios such as viewfinder appearance and video recording.
When it comes to technical innovation, Vivo's strategy to lead the way in novel image processing (IP) technology at the chip level has mostly centred around four strategic tracks – the imaging system, the operating system, the industrial design, and the overall performance. The Vivo V1+ Chip, in particular, was developed over a period of more than 30 months by more than 300 R&D workers and imaging lab experts at Vivo. Customers will enjoy unmatched experiences with the new X80 smartphone thanks to the Vivo V1+ Chip, which will transmit emotional resonance through visual expression.
When it comes to the Vivo X Series, provides photographers, content creators, and other creative professionals with a remarkable tool that allows them to be creative, record rare moments and share their work and creativity with the world. In the past, the company has pleased the local audience with attractive handsets packed with an appealing camera setup under their X Series, which allows users to capture professional-quality photographs with a simple push of the camera button on the handset. A year after unveiling the first X series smartphone, which was the X60 Pro, Vivo released the X70 Pro, which seamlessly combined the user-oriented innovation of Vivo with the unmatched expertise in mobile imaging of ZEISS to deliver amazing camera software and hardware capabilities. Gimbal Stabilization 2.0 and ZEISS T* Coating, two new imaging technologies offered by these products, were among the first to hit the market.
Following in the footsteps of their past X series models, we are confident that Vivo will deliver even more features geared at professional imaging in the near future.