News
vivo Y33T Smartphone Launched in Pakistan
50MP Rear Camera, 8GB+4GB Extended RAM technology and massive battery of 5000mAh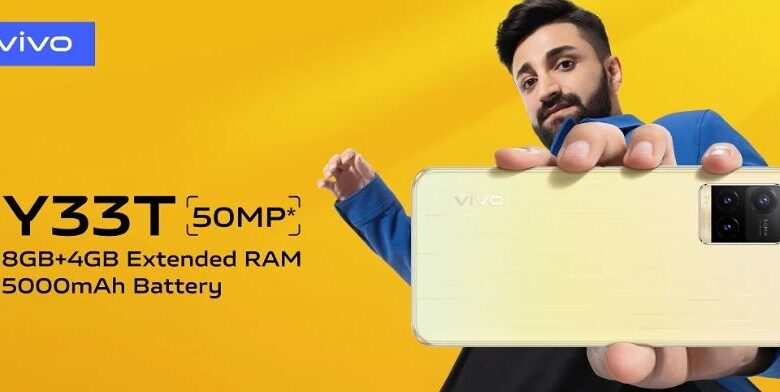 The Y33T is a stylish smartphone with a powerful 50MP rear camera that oozes ultra-modern flair. A 5000mAh battery provides plenty of power and longevity, and the device supports 18W Fast Charge, which charges the device rapidly and accommodates users who are constantly on the go. Y33T is a formidable competitor in comparison to its predecessors, thanks to its Snapdragon 680 Processor (6nm), which allows consumers to run more applications without experiencing latency or system lag.
The Y33T has been intended to better the lives of the young, modern, and 'on the go' generation, who are looking for a smart gadget with cutting-edge features to help them reach their objectives and meet their daily expectations. It has an advanced camera packed into a thin 8.0mm attractive frame. The all-new 50MP* rear camera sensor redefines the standard for high-definition shooting by providing remarkable precision.
vivo Y33T Smartphone Launched in Pakistan
With a 50MP Rear Camera*, the Y33T combines the user-oriented innovation of Vivo with the excellent competence in mobile imaging to provide a superior photography experience. In either zoom frame or crop frame, the smartphone elegantly captures life's most precious moments with the highest level of clarity, precision, and sharpness possible.
Furthermore, the Vivo Y33T features a 16MP Super Night Selfie camera that captures the beauty of night lights and selfies in high definition, as well as Vivo's specially built bokeh algorithm, which optimises the background to appear incredibly natural and elegant.
When you use the Super Night Selfie in 16 MP Front camera, you can be confident that you will look radiant all day long thanks to the Super Night Mode noise reduction technology and Smart Screen Flash, which illuminates your face against a background that is rich in detail for clear and natural results. Additionally, the phone is equipped with a Super Macro Camera, Personalized Portrait Mode, and Super HDR to ensure that the camera performs well in every situation.
50MP Rear Camera
The vivo Y33T harnesses the power, connectivity, and speed necessary to satisfy the demands of today's high-end smartphone users, who want their devices to operate at a high level. With the Qualcomm Snapdragon 680 Processor (6nm), which has a big core with a CPU speed of up to 2.4GHz and is accompanied by an Adreno 610 GPU clocking up to 1.1GHz, users can view graphics faster, in higher quality, and with stronger performance. The vivo Y33T also has a fingerprint scanner.
Technically, the Snapdragon 680 uses a 6nm technology, which results in a substantial reduction in energy usage when compared to the 11nm process used by its predecessor. LPDDR4x provides better memory recall and cache performance, while UFS 2.1 provides faster reading and writing performance as well as deep defragmentation capabilities. The features have been brought together to provide you with a worry-free entertainment experience.
As part of its commitment to providing long-lasting battery life, vivo's Y33T is equipped with a 5000mAh Battery* that is powered by an 18W Fast Charge* that allows users to make full use of the big battery capacity while also benefiting from intelligent energy management.
In addition, the Y33T is equipped with an Extended RAM 2.0* with an 8GB memory capacity. According to the manufacturer, up to 4GB* of idle ROM space can be utilised as extra RAM to ensure that moving between programmes and downloading are both smooth and seamless. Users will notice a big improvement in their ability to run their favourite applications without experiencing any lags. It doesn't stop there, either. The smartphone also features a large 128GB of internal storage*, which is powered by the Qualcomm Snapdragon 680 processor. The redesigned Multi-Turbo 5.0, Ultra Game Mode, and Funtouch OS 12 provide users with a pleasantly simple and practical energising user experience, while also allowing them to enjoy a more immersive gaming experience.
Ultra-Modern Design to Help You Step Up Your Style Game
In the form of an 8.0mm thin body, this slim phone boasts a 2.5D flat frame with a flat surface. A lightweight piece of technology, it provides users with a quality and comfortable grasp while remaining lightweight. Each of the phone's two rear cameras is neatly grouped into vivo's trademark Dual-Tone Step design pattern, enabling you to experiment with the phone's advanced photographic features. Users are placed at the forefront of fashion thanks to the minimalist design concept.
In-cell display with vibrant colours and rich details, the Y33T has a 6.58-inch Full High Definition (FHD+) display that instantly improves the watching and video streaming experience. Users may now experience unwavering clarity in everything from movies to games, as well as protection for their eyes thanks to a blue light filter integrated in.
The Y33T, on the other hand, has a special Eye Protection Mode* that, when used, blocks out dangerous blue light, reducing the likelihood of the user experiencing eye strain. With the Y33T, users can experience unwavering clarity in everything from movies to games, as well as protection for their eyes thanks to the included blue light filter.
Price and availability are important considerations.
Y33T is currently available for purchase in Pakistan in the colour Starry Gold at the low price of Rs. 39,999.
vivo provides a one-year warranty on the Y33T, as well as a 15-day free replacement policy and a 6-month warranty on the accessories. The Vivo Y33T has received full approval from the Pakistan Telecommunications Authority and is compatible with all mobile networks in the country. Customers of Zong can also receive 12GB of free mobile internet by inserting their 4G SIM card in Slot 1 (2GB of Internet per month for a total of 6 months).