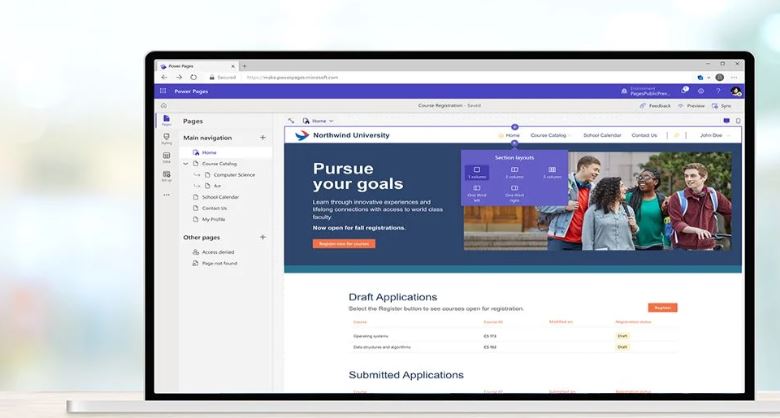 Power Pages, a standalone product that is part of Microsoft's Power Platform portfolio and is used for the development of business websites, was introduced yesterday by the industry-leading software corporation Microsoft. Power Pages was previously a component of Power Apps that was referred to as Power Apps portals; however, it has since been detached from that component and revamped to provide a different user experience.
Charles Lamanna, corporate vice president of Microsoft's business apps and platform, made these statements in a blog post.
Power Pages is a new product that can be purchased on its own and gives everyone, regardless of their level of technical expertise, access to an efficient platform for the creation of data-driven, up-to-date, and protected websites. In addition to being low-code, Power Pages go far beyond the previous capabilities of portals to make it possible for businesses of any size to construct websites in a safe manner. These websites can have exciting new aesthetic features and advanced capabilities for customization with pro-dev extensibility.
Microsoft Power Pages Design Secure and Low-code Business Websites
There is a wide variety of new web design businesses from which to choose. The interfaces that Power Pages provide with Microsoft's already-existing services are the company's most valuable competitive advantage. Power Pages, for instance, allows sophisticated users to automate development workflows by integrating with Visual Studio Code, GitHub, the Power Platform command-line interface, and Azure DevOps.
The Power Pages design studio includes tools that can be used for a variety of purposes, including but not limited to the styling, creation, and publishing of layouts and pages that contain text, videos, photographs, and business data form lists. While the "learn hub" provides guidance and lessons on how to create websites, model company data, and interact with code components, the "templates hub" provides ready-to-use websites for scenarios such as scheduling, registration, and app submission. In addition, the "templates hub" provides ready-to-use websites for scenarios such as scheduling, registration, and app submission. Lamanna made the following statement in this regard:
People frequently think of low code web development as being useful for simple projects such as a site to present a company profile or a blog site. However, low code web development may also be used for more complex projects. Power Pages is a platform designed for enterprise use that may be used to construct solutions that maximise company operations with an external audience such as customers, partners, and community members. Power Pages has its roots in Power applications portals, and it is already being utilised by customers all over the world in a variety of contexts, ranging from retail to government services.
There is a significant need for online design tools, according to polls, even if the market is already somewhat saturated. A recent poll conducted by Top Design Firms found that despite the fact that 28 percent of small businesses do not have a website, 44 percent of them wish to establish one by the year 2021. This finding suggests that the newly introduced Power Pages will be successful.