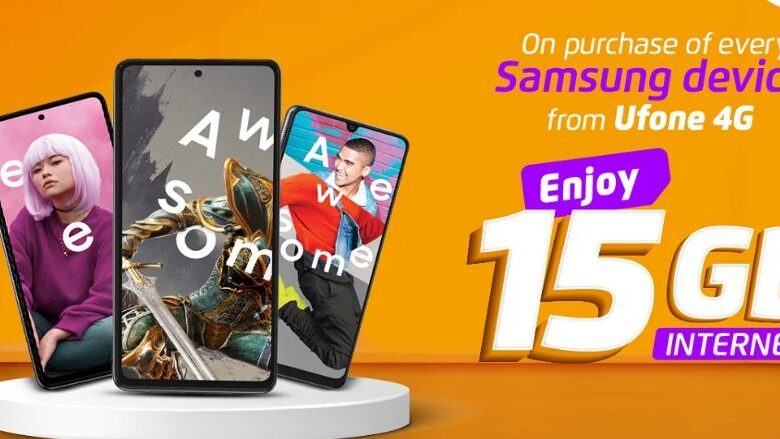 4G, a Pakistani telecommunications operator, has signed a partnership agreement with Samsung, a leading South Korean technological giant, to offer the full range of Samsung handsets for sale at Ufone Service Centers around the country. Mobile consumers can now acquire brand new Samsung phones from their local service centres; however, Ufone 4G users will be treated to a unique offer that is considerably more interesting than the competition. For the first three months after purchasing a handset from one of Ufone 4G's service centres, consumers receive 15GB of free Internet access.
This arrangement is a continuation of Ufone 4G's long-term commitment to providing users with a high-quality internet experience at all times, and this should be mentioned as well. The combination of Samsung's innovative and dependable devices with Ufone 4G's lightning-fast internet will significantly improve consumers' overall user experience. Customers who purchase any Samsung handsets will receive a free 15 GB Internet package valid for three months from the company as an additional incentive. Customers of Ufone 4G can now make use of flawless internet connectivity as well as a variety of intriguing features provided by Samsung Handsets.
For the time being, the handsets are exclusively accessible at the Ufone Service Center Jinnah Super in Islamabad; however, they will soon be available at Ufone Service Centers around the country.
Ufone 4G, a Pakistani telecommunications operator, is constantly on the search for new chances to meet the increasing digital needs of its clients. It is constantly striving to provide its users with a wholesome telecom experience, whether through high-end initiatives such as the transformation of its network to 4G or individual based facilitation such as the provision of the latest and most innovative handsets. Ufone 4G has committed to continuing this effort steadily into the future.