Blog
How to Register your mobile phone with PTA
Send the IMEI number to 8484 through SMS for PTA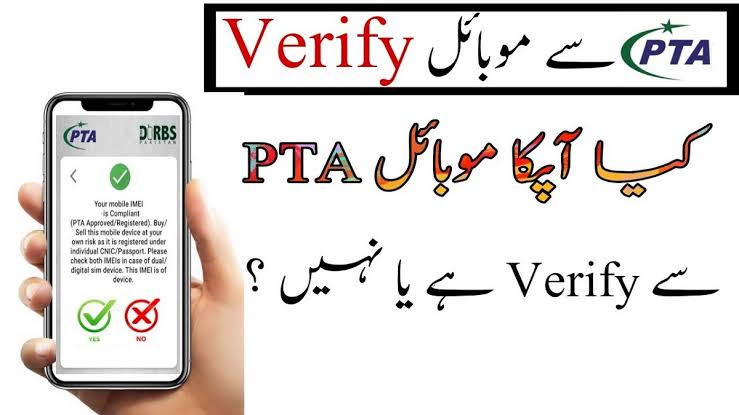 You may just have lately got a text message via Pakistan Telecommunication Authority short code '8484,' notifying you that you should register your cellular devices or they would be disabled.  According to the PTA's mobile registration requirements, every Pakistani must register their cell phones with the PTA. Every mobile devices associated with local networks in Pakistan that utilise local SIM cards must be registered within 60 days of their first usage on local networks, according to the law.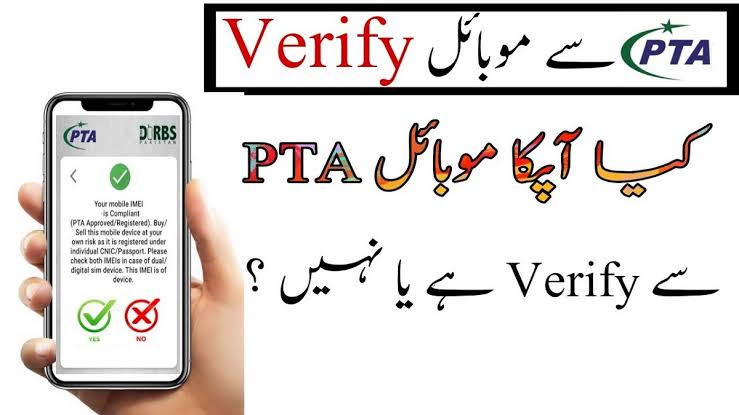 Cell phone users should now register their devices with the PTA in order to prevent getting blocked, as shown in a PTA guideline. The PTA has created the 'Device Identification, Registration, and Blocking System,' which is a verification system (DIRBS). The structure is in place to make sure that Pakistan's mobile phone ecosystem continues to flourish, as well as the use of legal devices on mobile networks
An IMEI number is a unique identifying or serial number found on all mobile phones and smartphones. It usually has Fifteen digits. The IMEI code for your smartphone could be found on a silver sticker on the back, underneath the battery pack, or even on the box it came in.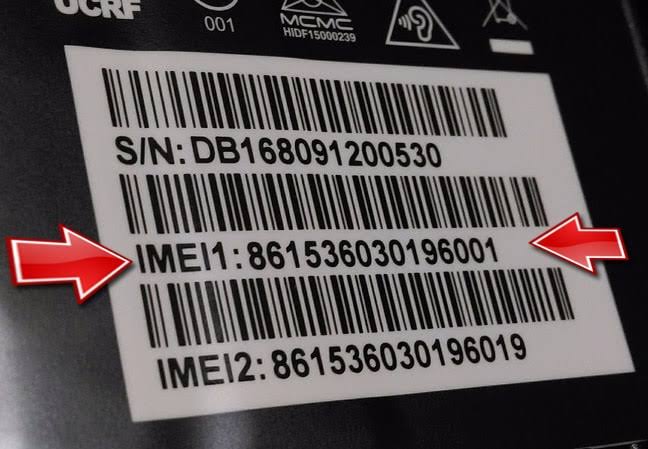 How can I check my IMEI number?
Entering *#06# into the keypad will also display the IMEI number on the screen of your phone or smartphone.
Go to your smartphone's 'Settings' and 'About Phone' sections.
It's also on the back of your phone's box.
Some mobile have removable battery, remove back cover and battery to find IMEI number.
How to register phone with PTA:
A variety of methods are available for registering the device.
For PTA cell phone registration, send the IMEI number to 8484 through SMS:
If you send a message to 8484, you will receive one of the following messages.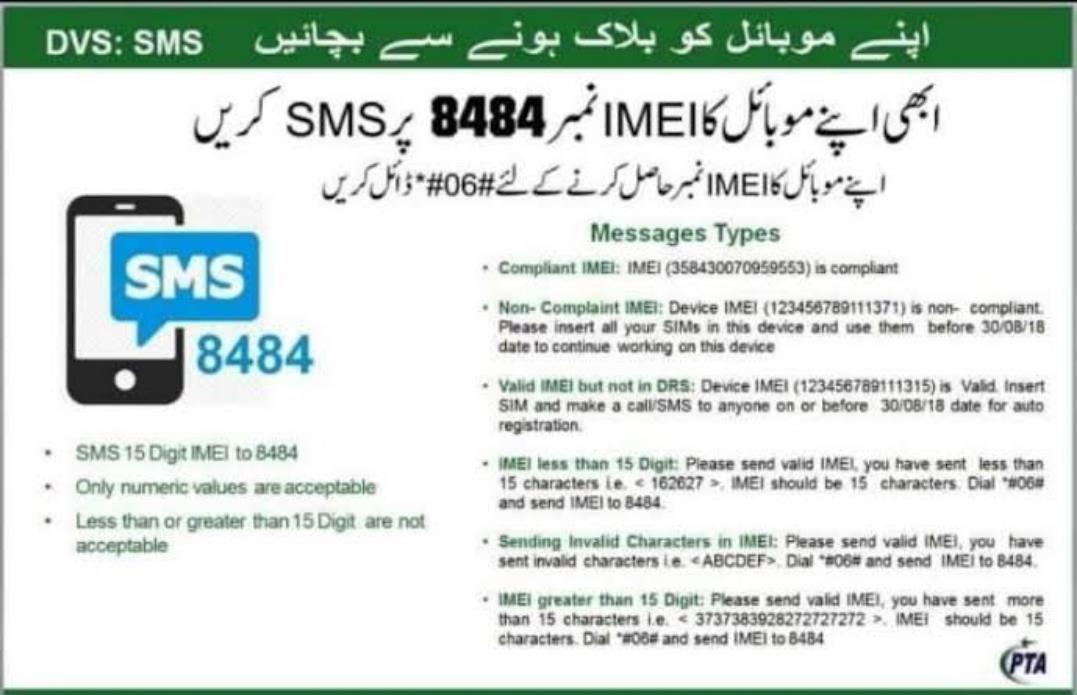 The International Mobile Equipment Identity (IMEI) is a standard for identifying mobile devices. The device's IMEI is correct. Insert SIM and make a call/SMS to anyone for auto registration.
The device's IMEI is non-compliant. Please use all of your SIM cards in order to continue using this smartphone.
The device's IMEI has been disabled. There has been a theft reported.
Through PTA website mobile also registered
How to Register Mobile Phone Free of Cost with PTA:
Despite the fact that the introduction of DIRBS is a positive step forward, many consumers are still unsure how and where to register their devices with PTA. In actuality, in collaboration with the Federal Bureau of Revenue, PTA has established a new web-based user DIRBS has developed a user interface application for regulations and registering unregistered mobile phones in Pakistan. It indicates that instead of waiting in a huge line at the airport, you may now paid your fees and taxes online. International travellers will be able to keep their smartphones in their baggage without having to disclose them at the airport for the time being. PTA has made it easier to register a cell phone for free in Pakistan.
Free PTA online registration:
The FBR has published different procedures for international travellers' mobile devices, local applicants' mobile devices, people' mobile devices imported via postal service or courier, and local traders' mobile devices imported unlawfully through informal channels.  The PTA Online Device Registration System was designed with Pakistanis residing abroad in mind.
So, here's how to use DIRBS to register your phone for free with PTA.
PTA mobile registration online through DIRBS:
To register via DIRBS (device identification, registration, and blocking system) online, follow these instructions.
Open your browser and type https://dirbs.pta.gov.pk/drs.
To access your account, you must first log in. Click Sign Up if you don't already have an account.
A form will appear after you click on Sign Up. To finish the form, fill in all of the essential information.
Select the purpose and user type first.
For mobile/tablet PCs, you'll choose personal/individual as the objective, and local or foreigner as the user type.
To finish the signup process, provide your email, passport number, phone number, and address.
An email with a confirmation link will be sent to you. To confirm your account, click on it.
Now go to your account and log in.
After logging in, you'll see a declaration window with various COC options on the left side. Apply for a COC by clicking the button.
Now, enter your phone's IMEI number as well as your contact information.
If you are required to pay the tax for your mobile phone, PTA will send you a text message.
Click on My Application to check the status of your application.
PTA mobile Register helpline:
Email address simcomplaints@pta.gov.pk     SMS short-code 8866
Help line number 051-9207059
fax number 051-2878139.
There is also a toll-free number, 0800-55055, which is available at no cost.