Blog
Top Internet Providers in UAE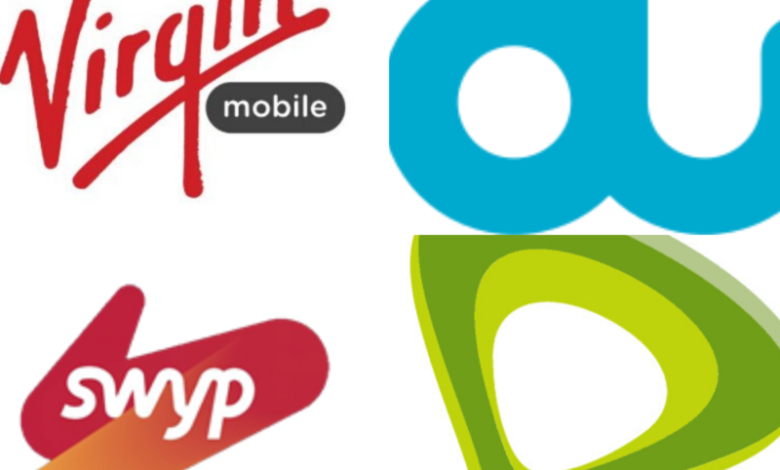 No matter you are a resident or planning a trip to UAE; you must be looking for some cheap and superfast internet connections there.  This guide will facilitate you to choose the best internet plan in 2019.
I will provide you an overview of all local mobile networks operating in the UAE and some good advice to choose the best provider. The findings are based on facts and figures by international recognized speed test analyzer companies.
Let's get a quick synopsis of this guide.
Top 4G internet providers in UAE
Etisalat 4G network
DU 4G network
Swyp network
Virgin network
Who is the winner in the "Speed test" award by "opensignal"?
Top internet providers in UAE
Mainly, the Top internet providing companies are two – Etisalat and Du.
Etisalat is the pioneer and operating in this industry since 1970.
Du started its network in 2007.
Both companies are leading giants in this internet providing industry and their services and packages are somewhat similar to one and another. Yet when it comes to talking about which is offering the best internet package, the answer can vary depending upon your needs of usage.
Being an industry-pioneer, Etisalat holds on a market share twice as that of Du Company. However, on the other hand, Du telecom is challenging this rival company with its affordable internet plans and the foremost second-billing system.
The subscribers of each telecom are as follow according to TRA data.
Etisalat's total subscribers are 10.73 million (58%).
DU has 7.89 million (42%)
In 2017 DU Telecom launched a new brand, namely –Virgin Mobile. The company is a virtual mobile network-based known as MVNO. Besides the fact that the Virgin Mobile is a separate brand, yet it is using the service and infrastructure of the parent company DU.
Virgin Mobiles solely operates through its app known as "Virgin Mobile UAE app,".  This was specially designed to target the youngster's crowd. The only condition is to have access to a debit/credit card to avail of this service.
Meanwhile, Etisalat also launched its virtual- mobile network to entertain its digital-savvy mass, namely-"SWYP" This network is specifically designed for youngsters.
 To avail of this service, you have to be between 15 to 29 years age group.
 Likewise, Virgin mobile, the SWYP network, is also app-oriented, enabling you to top-up your packages and recharge from your Smartphone.
Let's get a detailed insight into these companies and also their internet packages.
Etisalat 4G Mobile network
Etisalat prepaid packages come in 3 offers
Wasel
Wasel premium
Wasel visitors
>Activation charges for Wasel line is once for Dh. 57.75.
>Wasel premium line comes with a number of your choice, 3 GB data free for 6 months, and it costs only Dh1050.
>Wasel visitor's line can be availed at only Dh100, and it comes with free discount vouchers and Careem rides.
How to buy Etisalat prepaid packages?
You can buy these SIM cards online from the official website.
Or, you can buy from any Etisalat official outlets or business centre after necessary documents approval.
How to manage your account?
Download "My Etisalat UAE App."
Or, you can use the "My Etisalat self-care" app as well.
WassyGo prepaid line packages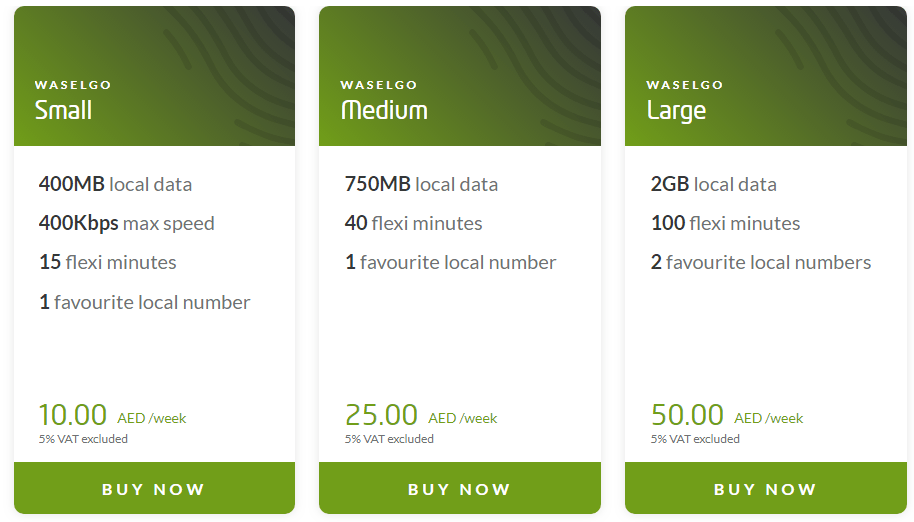 Figure 1 source( Etisalat UAE)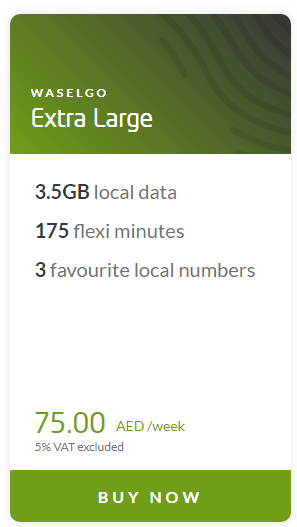 Figure 2 Etisalat UAE
To check your balance: dial *121#
To find prepaid offers and promotions: dial *101#
To get Deal of the Day: dial *050#
To transfer credit: type the command *100*mobile number*amount# and press ok
Text "ICP" to 1012 and make unlimited voice and video calls to anyone, anywhere with Etisalat's Internet Calling Plan using any of the supported apps
(Source: Etisalat telecom)
Wasel visitors line packages

Etisalat postpaid packages
You will find a high range of both cheap and high priced packages in postpaid sim.
Here you go.



DU 4G Mobile network
Du mobile network is also providing exclusive and low-cost internet packages to its customers. All the internet packages are somewhat similar to that of Etisalat plans.
Du also waives activation charges for postpaid customers if they sign up for auto-payment.
Du offers a generous plan which is easy on the wallet and comes with exciting vouchers to dole out. Now you can bode well with your desired data plans coupled with call packages.
On the official website, you can choose between prepaid, postpaid, and tourist plans.
Prepaid offers come in two plans data only or data calls offer.
Postpaid comes with a choice of light, heavy, or medium offers.
Du prepaid internet packages
Prepaid calls + data packages
Prepaid Data only packages
Daily Data packages
Du weekly packages

DU Monthly data only packages
Du Tourist prepaid packages
DU postpaid internet packages
Du postpaid 12 months plan
Virgin Mobile Network
As we mentioned above, the Virgin Mobile network is a separate brand launched by its parent Mobile network "DU."
Virgin Mobile is app oriented and designed for digital-savvy youngsters. It enables its customers to operate their accounts through the app.
Once you download and activate the Virgin Mobile Sim in your handset, you will get the liberty to choose different data, local, and international minute packages from more than 125 plans. Other than this, you can keep track of monthly data spend, and usage.
Other than this, you can pick data plan or roaming plans according to your need.
SWYP Mobile Network
Likewise, DU Mobile telecom, Etisalat, had also introduced another brand SWYP Mobile Network in 2017. SWYP is a purely app-oriented mobile network originated by Etisalat for its youth-centric network. The only caveat is it is only for younger's, who are around 15 to 29 years of age.
SWYP allows its customers to dole out with more than 30 vouchers per month for shopping, dining, and entertainment. These packages will renew automatically next month.
SWYP and Virgin Mobiles are using the network and infrastructure of their parent companies. Therefore, these are not independent brands and are piggyback off of their parent companies.
Here is a tariff comparison of both SWYP and Virgin mobile networks.
Etisalat vs. DU Mobile networks: which is the best 4G internet provider in UAE?
Let's discuss all the important key factors of these two leading giants briefly.
Mobile network coverage Etisalat vs. DU
Both Etisalat and DU's network are widespread over a vast region in the UAE. The signal quality might not be as good as in the developed areas. Furthermore, you can experience dropping bars in remote areas.
Du network is better in some areas as they provide fiber-optic lines. You have to figure out which system to choose in a specific area. To find out try to get information about the network operating in that region. If Du Mobile network is spotty in some regions than Virgin Mobile's system will be equally unpredictable.
Which internet package is better to choose?
How to choose the best package? Well! This can be tricky. Additionally, you have to think wisely before locking on a plan. If you are a resident of UAE, then you have a wide variety to choose from prepaid to postpaid monthly offers.
Otherwise, you can choose a control line package which is a capped inclusion of both of these. In this way, you can control your budget and avoid any annoying overages.
However, if you are a tourist, then you better opt for the prepaid offers. This will enable you to test the waters and you can change the plan afterwards if not satisfied.
Besides, the DU network has designed a tourist package solely to comfort the tourists. It allows for affordable calls and data plans feasible for visitors.
Apart from this, all the network telecoms except Virgin Mobiles offer perks in the form of vouchers enabling activities like shopping, travel, cinema tickets, and also dine out discounts.
Best postpaid/prepaid 4G internet package by Etisalat
The best postpaid package comes with a 24-month long contract with the cheapest plan of AED 150 for 6GB data and 300 minutes.
The best-prepaid package comes in combo for as low as AED 40/ month for 100Mb data, 1 GB social data and 50 minutes.
Moderate users can opt for capped inclusion. It allows you to use data without any bang on their bug. It comes with 2 GB data and 100 minutes for 80 AED.
Best postpaid/prepaid 4G internet package by DU
The best postpaid package is almost similar to that of Etisalat. It comes with AED150 for 6GB and 300 flexible minutes.
The best-prepaid package comes with AED 50 per month and allows you 750 MB data and 30 minutes.
Open signal's Mobile network experience report May 2019
Opensignal claims:
Opensignal is the independent global standard for analyzing consumer mobile experience. Our industry reports are the definitive guide to understanding the true experience consumers receive on wireless networks.
Our findings are taken from "opensignals official websites" for comparison.
As you can see in the picture above, that the winner is Etisalat in all of the tests.
Let's further break down all of these metrics one by one to see the overall statistics of these companies
Overview of 4G availability

Etisalat has topped-the-chart with 89% availability of the 4G network.
Du is touching the heels of its rival company giving a fierce competition.
Download speed test
Upload speed test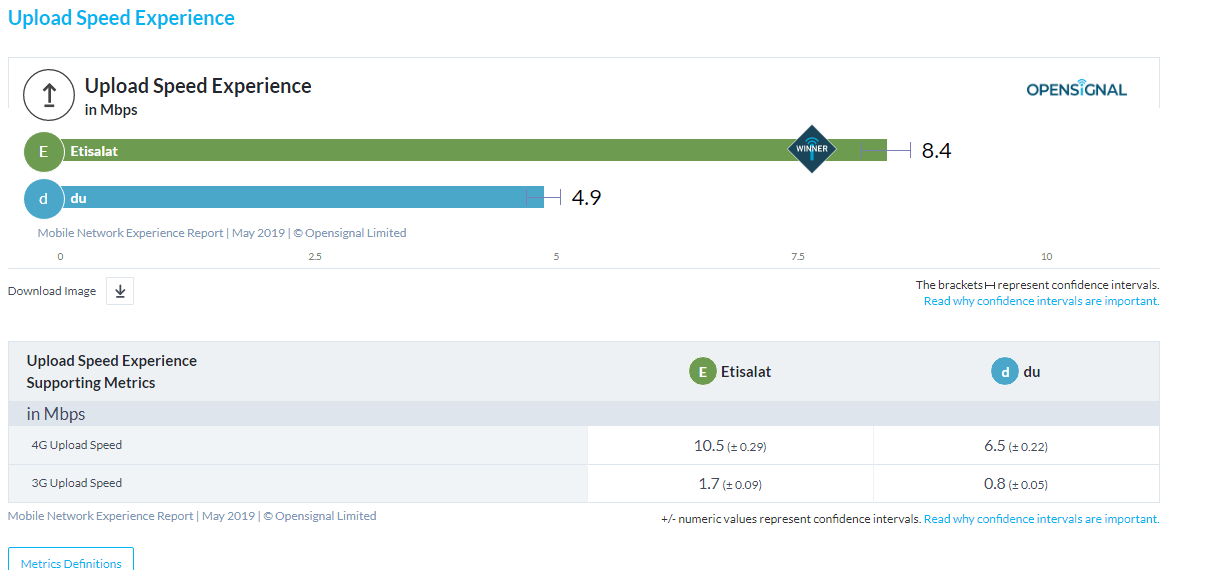 In both upload and download speed a test, Etisalat is winning by a large margin. The difference is more than half the points.
Final verdict
"Etisalat Mobile network" is the champ of UAE Mobile telecommunications." DU Mobile Network" is a close rival of Etisalat, and its 4G availability is pretty impressive as that of Etisalat.
The total net profit of Etisalat for the year 2018 is 3.6 billion, and total subscribers are 144 million.
The total net profit of Du is 0.9 billion for the year 2018, and total subscribers are 9.1 million.
Both prepaid internet plans and postpaid internet plans are available at a highly affordable price.
Etisalat won all speed test awards by "opensignal."